White House Says Letter From Iran Falls Short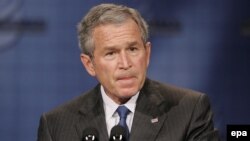 A spokesperson for President George W. Bush said the letter does not address international concerns (file photo) (epa) May 8, 2006 -- The White House says Iran's new letter to the United States does not address international concerns about the Iranian nuclear program.
White House spokesman Scott McClellan confirmed that Washington had received the
letter today from Iranian President Mahmud Ahmadinejad.
The letter was sent via the Swiss Embassy in Tehran since the United States and Iran have no diplomatic relations.
U.S. officials have been quoted as saying the letter may have been sent to influence a debate at the United Nations Security Council on a proposed resolution that would obligate Iran to halt uranium enrichment. Russia and China continue to oppose any references in the draft to possible sanctions or military force against Iran.
An Iranian government spokesman, Gholam-Hossein Elham, said the letter proposed "new solutions" for resolving international problems.
(compiled from agency reports)

SUBSCRIBE For regular news and analysis on Iran by e-mail,
subscribe to "RFE/RL Iran Report."