Afghanistan, Iraq Near Top Of Infant Mortality Table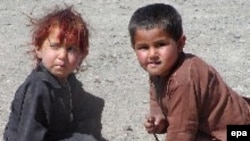 Afghan children in a refugee camp in Herat (file photo) (epa) PRAGUE, May 9, 2006 (RFE/RL) -- A new study says Afghanistan, Pakistan, and Iraq are among the countries with the highest death rates for newborns in the world.
The study by the U.S.-based independent charity Save the Children says the African nation of Liberia has the world's highest newborn mortality rate, with 65 out of 1,000 babies dying.
The report says Liberia is followed by Afghanistan, where 60 out of every 1,000 babies die.
Behind them come Iraq and Sierra Leone, with 59 of 1,000 newborns dying, and Pakistan, which has a rate of 58 deaths.
The report says illiteracy, poverty, malnutrition, poor hygiene, and crippled health-care systems are among the factors contributing to the high rates of death among infants and mothers during or soon after birth.
Save the Children's senior health adviser, Regina Keith, told RFE/RL said that one of the reasons for Afghanistan's high mortality rate is that many women give birth at home. "We know that if you have a skilled attendant delivering your baby, the likelihood of that child dying, for example, from not being able to breath or [from] infection, is less," she said.
The study says Scandinavian countries, led by Sweden, are the best places for a mother's health. The United States and Britain tie for 10th position, while the impoverished African country of Niger was ranked at the bottom of the 125 countries surveyed.