Klebnikov Murder Case To Go To Appeal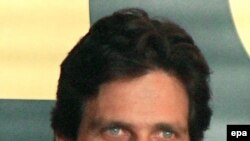 Paul Klebnikov (epa) May 6, 2006 -- Russian prosecutors said today they intend to appeal the acquittal of two men accused of murdering Paul Klebnikov, the editor of "Forbes" magazine's Russian edition.
Klebnikov, a New Yorker of Russian descent, was shot dead outside his offices in Moscow nearly two years ago.
A Moscow City Court jury voted on May 5 to acquit two ethnic Chechens, Kazbek Dukuzov and Musa Vakhayev, of the killing of Klebnikov. A third suspect was also acquitted in connection with the case.
Prosecutor Dmitry Shokhin said the appeal would be lodged with Russia's Supreme Court and based on "flagrant procedural violations."

(AP)