Anatol Lyabedzka, who heads the United Civic Party, said he was seized by "seven or eight" plain-clothes policemen.
The opposition demonstration he was heading for was to mark the seventh anniversary of the disappearance of opposition politician Yury Zakharanka.
Lyabedzka was released after three hours. Lyabedska says he believes the police detained him in the hope that his absence would prompt the opposition to cancel the protest.
Twelve other people were also detained before the demonstration. All were subsequently released.
(BelaPAN)
Minsk, March 25
THE AUTHORITIES GET TOUGH: RFE/RL's Belarus Service filed these images from the police action against the March 25 demonstration in Minsk. Photographs by Maks Kapran.
LISTEN
Listen to the sounds of the demonstration:
Real Audio Windows Media
Real Audio Windows Media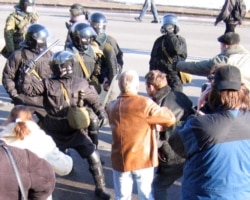 (RFE/RL)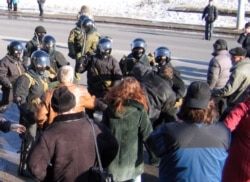 (RFE/RL)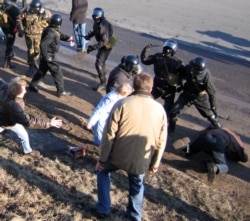 (RFE/RL)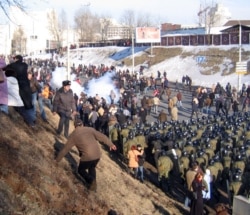 (RFE/RL)

THE COMPLETE PICTURE:
Click on the image to view a dedicated page with news, analysis, and background information about the Belarusian presidential ballot.


COVERAGE IN BELARUSIAN: Click on the image to view RFE/RL's coverage of the election campaign in Belarusian and to listen to RFE/RL's Belarusian Service.