Tajikistan Says High Arrests Underscore Drug Trafficking Crisis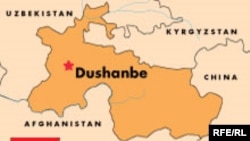 (RFE/RL) May 15, 2006 (RFE/RL) -- Tajik President Imomali Rakhmonov said today that more than 800 civil servants have been arrested over the past five years on drug-trafficking charges, Avesta and Asia-Plus reported.
He also complained that Tajikistan's narco-businessmen often go unpunished, while people actually smuggling drugs from neighboring Afghanistan receive heavy jail terms.

Rakhmonov made his remarks at an international conference on countering regional drug trafficking that opened in Dushanbe today. The panel draws participants from more than 20 countries.

The Tajik leader also said that more than 60 tons of drugs -- including 30 tons of heroin -- have been seized in the country in the past 10 years.

Tajikistan is one of main transit routes for Afghan-made drugs bound for Europe.