Afghan Leader Accuses Pakistan Of Interference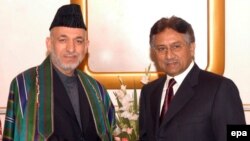 Afghanistan's Karzai (left) with Pakistan's Musharraf in Islamabad in February (epa) KONAR, Afghanistan; May 18, 2006 (RFE/RL) -- Using some of his strongest language yet against Pakistan, Afghan President Hamid Karzai today accused Pakistani officials of supporting cross-border attacks by militants and of interfering in Afghanistan's internal affairs.
Speaking to tribal leaders and officials in Afghanistan's eastern Konar Province, Karzai accused Pakistan's Strategic Department of using Afghanistan as a "training field."
Konar is a volatile province where militants regular cross the border from Pakistan's Northwest Frontier Province. U.S. and Afghan troops often clash with pro-Taliban militants there.
This is not the first time Karzai has accused Pakistan of
interfering in Afghan affairs
.
Pakistan's President Pervez Musharraf recently accused Karzai of being "oblivious" of what is happening in his own country. He said Karzai has provided Pakistani intelligence services with outdated information about Islamic militants.
(RFE/RL's Afghan Service)