Hussein Lawyer Ejected From Court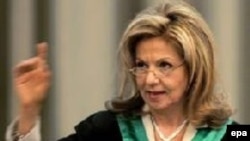 Bushra al-Khalil, defense attorney for Saddam Hussein (file photo) (epa) May 22, 2006 -- The trial of former Iraqi leader Saddam Hussein and seven co-defendants has been adjourned until May 24.
Proceedings on May 22 turned into a shouting match after the chief judge ejected one of Hussein's defense lawyers, Lebenese attorney Bushra al-Khalil, from the courtroom for speaking out of turn.
(compiled from agency reports)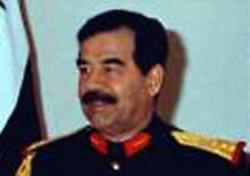 For a timeline of former Iraqi President Saddam Hussein's life from his rise within the ranks of the Ba'ath Party and the Revolution Command Council to his regime's ruthless persecution of perceived enemies at home and abroad, click here.