PRAGUE, May 22, 2006 (RFE/RL) -- Shirin Ebadi told an audience at the University of California-Los Angeles (UCLA) this month that her book is an introduction to Iranian society.
"Once a journalist asked me how I would describe Iran in one sentence," Ebadi said. "I answered, 'Iran is a land of contradictions.' After the [1979] revolution, many discriminatory laws against women were introduced -- including one according to which the life of a woman is worth half the life of a man."
A Life Of Discrimination
Ebadi noted that women comprise about 65 percent of Iran's university enrollment and often face discrimination.
In her book, Ebadi recounts how at the age of 23 she became one of Iran's first female judges. She also recalls how she was later forced to resign because women were deemed incompetent to serve as judges under Iranian law.
Despite being sidelined, Ebadi stayed in Iran and became a defense attorney. She later founded a group called the Society in Defense of Children's Rights.
In 2003, Ebadi became the first Iranian and the first Muslim woman to win the Nobel Peace Prize.
Her book provides an overview of seminal events in Iran's turbulent history through the eyes of an outspoken rights advocate -- but also of a woman whose outlook has been shaped by recent Iranian history.
The Past As Prelude
"This book includes my memories from when I was born until the time I received the Nobel Peace Prize," Ebadi said. "I've looked at events that took place in Iran during this time from my perspective and how they influenced my life."
"The written word [is] the most powerful tool we have to protect ourselves from the tyrants of the day," she said.
Some of the events covered in her book include the CIA-orchestrated coup that toppled Iranian leader Mohammad Mossadegh in 1953. She also describes the 1979 Islamic Revolution and the subsequent murder of Iranian intellectuals and dissidents by Intelligence Ministry agents.
Ebadi writes about the headscarf, which after the revolution became compulsory for women. She describes that many women -- including Ebadi herself -- couldn't get used to it.
Ebadi also writes humorously about a female friend who is driving her car when she realizes she has forgotten her headscarf. Ebadi says her friend told her how she "yanked [her] skirt all the way up and pulled it over [her] hair" to keep other motorists from noticing.
Ebadi argues that then -- as now -- "a sizable number of Iranian women would have gone bareheaded if given the freedom to choose."
History -- One Life At A Time
The book also includes sad and painful personal memories.
Ebadi writes about the execution of thousands of political prisoners in Iran in 1988 -- including her young brother-in-law, Fuad.
Ebadi says that Fuad's death increased her obstinacy toward authorities.
Warned not to discuss Fuad's death with anyone, she says she talked "night and day" about his execution to anyone who would listen -- "in taxis, at the corner shop, [or] in line for bread." She talks about "approach[ing] perfect strangers and tell[ing] them about this sweet boy who was sentenced to 20 years in prison for selling newspapers, and then executed."
Ebadi also recalls the long and bloody 1980-88 war with Iraq that took such a heavy toll on both countries. The winners, she concludes, were "the arms dealers."
"I witnessed eight years of war with Iraq," Ebadi said. "[Iraq's leader] Saddam Hussein destroyed 15 of our cities. Saddam used chemical weapons against Iranians, and also against Iraqi Kurds. And, during that time, Saddam was a close friend of the United States, and [Iraq] would get arms from the United States."
Time For Direct Talks
In California on May 16, Ebadi turned her attention to the current tension between the United States and Iran. She encouraged officials in Washington and Tehran to put their differences behind them and think about the future.
"I've tried to remain unbiased," Ebadi said. "Therefore in my book I've also written about the mistakes of the Iranian government and people -- I mean the [1979] hostage taking [at the U.S. Embassy in Tehran], which was a big and shameful mistake. It also harmed Iran and, no matter how you look at it, it was an incorrect act."
Ebadi went on to encourage direct talks between Iranian and U.S. leaders, legislators, and also U.S. and Iranian civil-society groups.
"There is no dispute between the people of Iran and the United States, even though the governments fight against each other," Ebadi said. "The problems should finally be resolved and it should be done through official, open, and direct talks."
Hope For A Democratic Future
Ebadi warned against any military strike on Iran, and cautioned that democracy cannot be brought to her country through force.
"Despite my criticism of Iran's ruling system, a military strike on Iran or the bombing of Iran would not solve our problems," she said. "Iranians love their country, and they will not allow it to turn into another Iraq."
Ebadi expressed hope for democratic change in Iran to an audience in Washington on May 10. She's an "optimist on democracy," she said, because she's "optimistic regarding the people of Iran and confident that they will push for change."
Ebadi's new book has been published in the United States and translated into several languages -- including French and German.
Ironically, one of Iran's most famous voices will have a more difficult time being heard at home, where censors have blocked the publication of Ebadi's book.
(Radio Farda contributed to this report.)
Ramin Jahanbegloo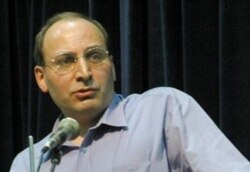 Ramin Jahanbegloo speaking in Tehran in 2004 (AFP)

THE FOURTH WAVE: In late April, it was announced that the Iranian authorities had arrested noted intellectual RAMIN JAHANBEGLOO. Jahanbegloo is a professor of philosophy in Iran and Canada and is the author of more then 20 books, including "Moje Chaharom" ("The Fourth Wave"). In November 2004, Radio Farda correspondent Fatemeh Aman interviewed Jahanbegloo about the current generation of Iranian intellectuals and its distinctive features.
Radio Farda: It seems that in your book you see a unique status and mission for the fourth generation in the process of progress and democratization in Iran. Why is that and what are the most important characteristics of this generation of intellectuals?
Ramin Jahanbegloo: The fourth generation is distinct from former ones for several reasons. First this is a democratically minded generation that cares about democratic values. This generation has a political approach toward these values and, importantly, it is heavily colored by the active presence of women. The other distinct feature of this generation is its belief in modernity. This modernity is not an imitation one, but rather is based on discourse. If in the past many thought they can become modern by imitating the Western way of life, today's intellectuals know that the real route to modernity is by understanding the modern world in the West and channeling this thought process into social, cultural, and political institutions....(more)

RELATED ARTICLES
Rights Advocate Calls Scholar's Arrest A Troubling Sign
Rights Groups Demand Scholar's Release
Iranian Activists Fear Looming Crackdown
ARCHIVE
For an archive of all of RFE/RL's coverage of Iran, click here.