Nodira Hidoyatova, a businesswoman and coordinator for the opposition Sunshine Uzbekistan coalition, was released in the courtroom and is reported to be at home.
Hidoyatova was initially sentenced to 10 years in jail in March for charges that stemmed from alleged business dealings.
But the appeals court today commuted her sentence to a seven-year suspended jail term with three years' probation. Hidoyatova also had to pay 120 million Uzbek soms ($100,000) in bail.
AFP quotes rights campaigners as saying her remaining sentence should be lifted if new charges are not brought against her during the probation period. Hidoyatova has consistently denied the accusations made against her, and supporters have accused authorities of targeting her for political reasons.
Sunshine Uzbekistan has criticized President Islam Karimov's government for the bloody military crackdown that followed last year's unrest in the eastern city of Andijon.
(fergana.ru, AFP)
Andijon Anniversary Conference
Andijon Anniversary Conference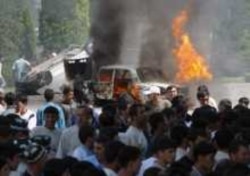 Violence in Andijon, Uzbekistan, on May 14, 2005 (epa)


TALKING ABOUT ANDIJON:
On May 9, 2006, RFE/RL, the National Endowment for Democracy, and U.S.-based human rights organizations cohosted a conference on the May 2005 events in Andijon and their aftermath in Uzbekistan and throughout the region. The first panel featured Andijon eyewitness
GALIMA BUKHARBAEVA
, National Endowment for Democracy Fellow
NOZIMA KAMALOVA
, RFE/RL Central Asia analyst
DANIEL KIMMAGE
, and others. The second panel featured presentations by U.S. Senator
JOHN MCCAIN
and U.S. Congressman
CHRISTOPHER SMITH
, who used the forum to announce they had introduced legislation calling for sanctions and other measures against the government of President Islam Karimov.
LISTEN
Listen to the Andijon conference. Part One (70 minutes):
Real Audio
Windows Media
Part Two (60 minutes):
Real Audio
Windows Media
The Uzbek government's response:
Real Audio
Windows Media


THE COMPLETE STORY: A dedicated webpage bringing together all of RFE/RL's coverage of the events in Andijon, Uzbekistan, in May 2005 and their continuing repercussions.
CHRONOLOGY
For an annotated timeline of the Andijon events and their repercussions, click here.