Georgia Marks Independence Day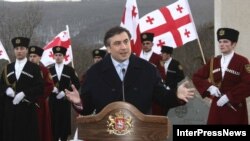 Georgian President Saakashvili speaks at a commemoration of a battle in 1922 between Georgians and the Soviet army (file photo) (InterPressNews) May 26, 2006 - Georgia today marks the 15th anniversary of its independence from the Soviet Union.
Georgian President Mikheil Saakashvili marked the event by opening the Museum of Soviet Occupation in Tbilisi, which chronicles the fate of thousands of Georgians purged and killed by Soviet secret services.
Saakashvili also called for progress in resolving Georgia's conflicts with the separatist provinces of Abkhazia and South Ossetia.
(AP)

SUBSCRIBE For weekly news and in-depth analysis on Armenia, Azerbaijan, Georgia, and Russia's North Caucasus by e-mail,
subscribe to "RFE/RL Caucasus Report."