PRAGUE, May 30, 2006 (RFE/RL) -- Tatarstan is home to more than 1,000 mosques, with 50 in Kazan alone.

It is also the only place in Russia where Muslims can come to receive a top-notch formal Islamic education in Shari'a law, the Koran, and the Islamic economy.

But local authorities, looking to have more control over the way Islam is being taught, have introduced secular subjects to the school's curriculum.

Now, the nearly 200 students attending Kazan's Russian Islamic University will be required to take courses in history, languages, and science along with their religious instruction.

Moderate Approach
Ildus Zahidullin, a member of Tatarstan's Academy of Sciences and the university's new rector, told RFE/RL's Tatar-Bashkir Service the change reflects the desire for a moderate approach to Islamic education.

"We will have a balance between religious and secular [education]," Zahidullin said. "Schools in the Russian Federation do not provide [Islamic] religious education; a new faculty will be established for those students who want to study Shari'a and the Koran. They will also get additional education in Arabic, the language of the Koran. They will be given the opportunity to be language teachers."


Zahidullin says students at the university will still have the opportunity for a full Islamic education in a special department within the university. But graduates from now on will hold two diplomas -- one religious, one secular.
Zahidullin says the secular education will help give future imams and religious instructors a better understanding of the society in which they will work. Other proponents suggest the change will help stem a potential rise in Islamic extremism.
Student Concerns
Not everyone, however, is enthusiastic about the change. Students at the university staged a demonstration in early May to protest the new curriculum and the role of the state in determining the nature of the school's religious education.

One young woman attending the rally told RFE/RL she was afraid Kazan authorities would eliminate Islamic studies altogether.

"If we stop the religious instruction, where will young people go to study? Nobody knows. Nobody knows where they will be able to get an Islamic education," she said. "This is a headache for the state as well. There are a lot of [radical] sects. It's necessary to consider all the consequences of a closure."

Muslim leaders are concerned as well.
"If we stop the religious instruction, where will young people go to study? Nobody knows. Nobody knows where they will be able to get an Islamic education."
Tatarstan's Spiritual Board of Muslims, which cofounded the university together with the Academy of Sciences and Russia's Council of Muftis, says religious instruction should remain the priority, rather than an optional specialization. It has demanded that the reforms be reconsidered.

The Council of Muftis has also expressed reservations. Sheikh Ravil Gainutdin, the council chairman, does not oppose the changes, but says the head of the university should be a religious figure -- which the new rector Zahidullin is not.

"We think the head of the Russian Islamic University should be a religious person," Gainutdin said. "And we will continue to demand it. If the rector is not a religious person and has no faith, it will simply taint the name of the university. Then Muslims in Russia and Muslims worldwide will view the university with suspicion, and its authority will evaporate."

Radical Fears
The issue of Islamic education is a critical one in Russia, which is home to an estimated 20 million Muslims -- more than 10 percent of the total population.

Russia's ongoing war in the North Caucasus Republic of Chechnya, along with the U.S.-declared global war on terror, have heightened fears of radical Islam.


The Russian Council of Muftis has sought to counter that trend, with Sheikh Gainutdin on May 30 calling for government help in creating a network of moderate Islamic schools and encouraging opportunities for young Muslims.
The reformed version of the Russian Islamic University would seem to fit this description. Graduates of the new religious faculty will be able to serve as imams, or as nonreligious instructors in the Arabic or Persian languages.
In the words of new rector Zahidullin -- who replaces the former university head, Mufti Usman Khazrat Iskhakov -- they will be "secular experts of Islam."
The change will also allow the university to receive subsidies from the Russian Education and Science Ministry, which does not provide financial backing for religious education. Before the reforms, Kazan's Russian Islamic University survived on outside funding.
Still, the change may force many Muslims pursuing a serious religious education to once again set their sights abroad, to Islamic universities in Egypt, Turkey, and elsewhere. While there are a number of informal Islamic schools throughout Russia, none have with the reputation of the Kazan university.
The Bosnian Model
But are the concerns in Kazan valid? The Russian Islamic University is not the only place of Islamic higher learning to feature a secular curriculum or ties to the state.
"If the rector is not a religious person and has no faith, it will simply taint the name of the university." -- Council of Muftis Chairman Gainutdin
Students at the Islamic Studies faculty of Sarajevo University in Bosnia-Herzegovina also study secular subjects as part of their education.
The faculty's deputy head, Zuhdi Hasanovic, says the faculty does not face much intervention from the state, despite being part of the general university.

"The founder of the faculty is the Council of Islamic Community in Bosnia-Herzegovina; officially, we are a private education organization," Hasanovic said. "We joined Sarajevo University last year, but as an associate member, not as a full member. Although we have the same status as the other faculties, we enjoy some degree of autonomy. We are totally independent in creating our curriculum, but we still have to fulfill the same requirements as the other faculties."

(RFE/RL's Tatar-Bashkir Service contributed to this report.)
Russia's Changing Face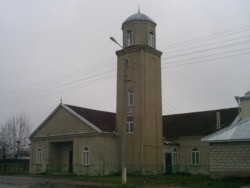 A mosque in Baksan, in the Russian Republic of Kabardino-Balkaria (RFE/RL)
THE COMING MUSLIM MAJORITY: On February 28, Russia expert PAUL GOBLE, vice dean of social sciences and humanities at Concordia-Audentes University in Tallinn, Estonia, gave a briefing at RFE/RL's Washington office. Goble said ethographers predict Russia will have a Muslim majority "within our lifetime." Since 1989, Russia's Muslim population has increased by 40 percent, Goble said, rising to some 25 million self-declared Muslims. He said 2.5 million to 3.5 million Muslims now live in Moscow, gving Moscow the largest Muslim population of any city in Europe. Russia today has more than 8,000 mosques, up from just 300 in 1991. By 2010, experts predict, some 40 percent of Russian military conscripts will be Muslims.
Goble noted that these changes have been accompanied by a "rising tide" of anti-Muslim prejudice. Public-opinion surveys reveal that up to "70 percent of ethnic Russians" express sympathy with xenophobic slogans. Goble warned that heavy-handed state efforts to "contain Islam" could backfire and cause groups to move underground, "radicalizing people who are not yet radicalized."
LISTEN
Listen to the entire briefing (about 85 minutes):
Real Audio
Windows Media
See also:
Muslims Oppose Bill To Add Chaplains To Army
Russia: Muslims Upset By State Symbols
Russia's Muslims Move Toward Greater Unity
Rights Groups Say Muslims Are Unfairly Targeted In Fight Against Terrorism
THE COMPLETE PICTURE: To view an archive of all of RFE/RL's coverage of Russia's North Caucasus, click here.

A thematic webpage devoted to issues of religious tolerance in RFE/RL's broadcast region and around the globe.