EU Urges Good Ties Between Serbia, Montenegro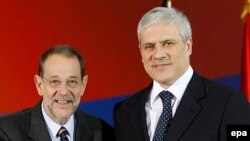 EU foreign policy chief Javier Solana (left) and Serbian President Boris Tadic (epa) June 2, 2006 -- The European Union's foreign policy chief, Javier Solana, today urged Serbia to establish good relations with Montenegro in the aftermath of the May 21 referendum in which Montenegrins chose to split from the Serbia and Montenegro state union and to become an independent country.
Solana, who is currently in Belgrade, promised there would be a place in Europe for both Serbia and Montenegro.
He also pressed Belgrade to cooperate with the UN war crimes tribunal.
(AP, dpa)