SCO Summit Will Not 'Attack' U.S. Bases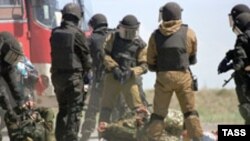 Soldiers detain "terrorists" during the Shanghai Cooperation Organization's first joint counterterrorist exercises in 2003 (ITAR-TASS) June 8, 2006 -- Kazakh Foreign Minister Qasymzhomart Toqaev today said he does not believe next week's summit of the Shanghai Cooperation Organization (SCO) will deliver a "diplomatic attack" on the U.S. military presence in Central Asia.
Last summer, the SCO's six members -- China, Russia, and four Central Asian republics -- called for Washington to set a date by which to withdraw from military bases in Central Asia. The U.S. military has maintained an air base in Kyrgyzstan since 2001 as part of its operations in Afghanistan.
The upcoming summit, to be held on June 15 in China, will be attended by Iranian President Mahmud Ahmadinejad, Iranian media reported on June 8. The SCO has granted Iran observer status.
(dpa, AP, AFP, IRNA)

RFE/RL Central Asia Report

SUBSCRIBE For regular news and analysis on all five Central Asian countries by e-mail,
subscribe to "RFE/RL Central Asia Report."