WASHINGTON, June 9, 2006 (RFE/RL) -- Situated along the disputed Afghan-Pakistani boundary, the Federally Administered Tribal Areas (FATA) include seven agencies and four tribal areas adjoining districts of Pakistan's North-West Frontier Province (NWFP). The inhabitants of these regions are predominately ethnic Pashtuns, the same case as on the Afghan side of the border.
The Pakistani Constitution states that acts of that country's parliament are nonbinding in the FATA unless the president declares otherwise. The president has discretionary power to order all or part of any of those tribal areas to be brought under direct government control -- provided that local views, reflected in a traditional Pashtun tribal council, or jirga, are taken into consideration.
The situation in the FATA -- especially in the agencies of North and South Waziristan -- has steadily deteriorated since demise of the Taliban regime in neighboring Afghanistan in late 2001. A large number former Taliban leaders are thought to have settled in the FATA, along with some of their foreign supporters.
As part of its counterterrorism effort, Pakistan has for the first time in its history introduced upwards of 70,000 regular and irregular military troops to the FATA. The introduction of regular Pakistani forces has failed to halt neo-Taliban activities on either the Pakistani or the Afghan side of the border.
Since March, some 300 "miscreants" -- including foreign fighters -- have been reported killed in FATA. In the same period, some regions of the FATA have come under the control of Pakistan's neo-Taliban and their sympathizers.
In early June, the "miscreants" carried out a suicide attack on a Pakistani military convoy in the in Banu district of the North-West Frontier Province, killing four soldiers. A previous attack in North Waziristan killed a policeman and a soldier. Islamabad's "Pakistan Observer" commented on June 4 that suicide bombing, "introduced by the Palestinians... has spilled over to Iraq and Afghanistan and is seemingly falling out to Pakistan as well."
The Pakistani neo-Taliban have begun to exercise greater control over aspects of daily life in areas of the FATA. In addition to policing and the collection of duties -- mimicking the tactics of their allies across the border in Afghanistan -- the neo-Taliban in Pakistan have targeted a mother-and-child health center, and have beheaded individuals on charges of providing intelligence to the United States.
Engaging The Locals
Pakistani authorities have also adopted a tactic similar to one being employed in Afghanistan. Traditional Pashtun councils (jirgas) have been organized under government supervision in the North-West Frontier Province to solicit the aid of local tribes in fighting what officials call the "miscreant" menace.
According to a June 7 report in the Lahore-based "Daily Times," the newly appointed governor of NWFP, retired Lieutenant General Ali Mohammad Jan Orakzai, told a recent gathering in Peshawar of tribal leaders from North Waziristan that Islamabad needs their help to "put out the fire that has engulfed the entire Waziristan."
Orakzai vowed to convene a grand assembly, or loya jirga, that would possess decision-making powers to address the current problems. He added that it would represent all segments of society in the troubled FATA areas.
Pakistan reportedly is also considering replacing civilian administrators in the FATA with military personnel. The use of tribal militias -- known as "levies" -- is being considered to help quell the growing power of the neo-Taliban areas of the FATA. Afghanistan is also toying with the idea of establishing local Pashtun militias to counter the neo-Taliban in that country.
The use of tribal militias could offer a short-term tactical solution to challenge the neo-Taliban ascendancy in parts of the Pashtun heartlands on either side of the Afghan-Pakistani border. But the strategic endgame for both countries is the establishment of strong and effective state control in those areas. As with the use of militias in the early stages of the defeat of the Taliban regime in Afghanistan, tactical approaches might complicate the strategic mission of firmly establishing state institutions. If the states become weak and ineffective, neither NATO nor Pakistan's own nuclear-armed military can be of much use.
Before debating the creation of more fragmented military units that could actually help an elusive enemy, Kabul and Islamabad need to realize that both are losing ground to an enemy that they are not even prepared to properly identify. Instead of blaming each other over security or intelligence failures, Afghanistan and Pakistan should join hands in operations to counter antigovernment activities that neither side appears prepared to defeat at the moment.
Helmand Province Governor Comments
Helmand Province Governor Comments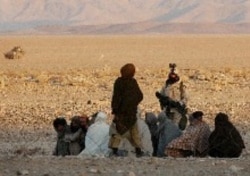 U.S. Marines operating in Helmand Province in 2002 (epa)


RULING A RESTIVE LAND: On February 12, RFE/RL Radio Free Afghanistan correspondent Jawaid Wafa spoke briefly with Helmand Province Governor MOHAMMAD DAOUD about the ongoing violence in his restive region on the border with Pakistan.
RFE/RL: Recently, there have been many clashes and attacks by insurgents in Helmand Province. What in your view facilitates these attacks, especially in Helmand?
Mohammad Daoud: This province has a 160-kilometer border with Pakistan's Baluchistan Province. In reality, armed people, armed terrorists, from the other side of the border cross the border into Helmand. They carry out attacks and return back. It is a serious problem in Helmand that within our borders there is neither tribal good will, nor are there are special military or security measures to prevent enemies from crossing back and forth.
RFE/RL: The attacks and clashes have not only been between government forces and insurgents. There have been various clashes in different parts of Helmand between police and purported drug smugglers. How do you explain this?
Daoud: Drug smugglers also use the border for their own purposes. They have opened markets on the border and process opium there. This is a serious problem along our border. We are in touch with our authorities on this problem.
RFE/RL: There are government border police patrol your border. What is their role in preventing illegal crossings?
Daoud: Along this 160-kilometer border, there are car routes, walking routes. We have border police, but unfortunately, either because of their own problems or because of weak administration, they have not been able to stop the crossing.
RELATED ARTICLES
ISAF Expands And Prepares For Long-Term Stay