Bush Hails 'Good Week' For The Cause Of Freedom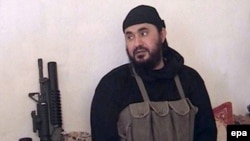 Abu Mus'ab al-Zarqawi, Al-Qaeda's leader in Iraq (epa) June 10, 2006 -- Speaking in his weekly national radio address, President George W. Bush today hailed "a good week for the cause of freedom."
He was referring to the killing of Al-Qaeda's leader in Iraq, Abu Mus'ab al-Zarqawi, who, he said, had "led a campaign of car bombings, and kidnappings, and suicide attacks that has taken the lives of many American forces, international aid workers, and thousands of innocent Iraqis."
The U.S. president said al-Zarqawi's death was "an important victory in the global war on terror."
But Bush also warned Americans of more sacrifice to come, saying violence in Iraq could escalate in the coming weeks.
(Reuters, AFP)

SUBSCRIBE For weekly news and analysis on Iraq by e-mail,
subscribe to "RFE/RL Iraq Report."