June 7, 2006: U.S. aircraft kill Al-Qaeda in Iraq leader Abu Mus'ab al-Zarqawi and at least six others, including al-Zarqawi's spiritual leader, Abu Abdul-Rahman. Al-Qaeda confirms al-Zarqawi's death.
June 2, 2006: In an audiotape, al-Zarqawi calls on Sunni Muslims in Iraq to fight against the Shi'ite majority, denouncing Shi'ite spiritual leader Grand Ayatollah Ali al-Sistani as an "atheist."
April 25, 2006: Al-Zarqawi releases a rare videotape in which he vows to fight on against the U.S.-led coalition in Iraq and the Iraqi administration.
February 22, 2006: Armed gunmen affiliated with al-Zarqawi's group blow up the Golden Mosque in Samarra, a sacred site to Iraq Shi'a. The attack sets off days of intense sectarian violence across Iraq.
February 15, 2006: A court in Jordan hands down a fourth death sentence in absentia against al-Zarqawi after finding him and eight others guilty of plotting chemical attacks in the kingdom.
January 2006: Six Sunni armed groups reportedly agree to reconciliation talks with the Iraqi government, indicating a rift among al-Zarqawi's allies. Experts speculate that some Sunni insurgents are put off by al-Zarqawi's violence and his calls for attacks on Iraqi Shi'a.
December 28, 2005: Interpol issues an international wanted notice on al-Zarqawi.
December 18, 2005: A Jordanian court hands down a third death sentence in absentia to al-Zarqawi.
November 23, 2005: Al-Qaeda in Iraq denies media reports that al-Zarqawi has been killed by U.S. forces.
November 9, 2005:
Three hotels in the Jordanian capital, Amman, are bombed simultaneously, leading to scores of casualties.
Al-Zarqawi later claims responsibility
for the attacks.
October 2005: U.S. authorities release a letter allegedly from Al-Qaeda No. 2 Ayman al-Zawahri to al-Zarqawi in which al-Zawahri urges al-Zarqawi to stop killing ordinary Muslims.
August 2005: Al-Zarqawi associates announce that they will target Iraqi Sunnis who cooperate with the Iraqi government or support the country's consitution.
May 24, 2005: Al-Qaeda in Iraq issues a statement saying that al-Zarqawi has been wounded.
February 2005: Al-Zarqawi nearly captured by U.S. forces during a car chase in western Iraq. U.S. officials later claim that his laptop computer was captured and two of al-Zarqawi's aides were arrested.
January 2005: Al-Zarqawi calls on Iraqis not to participate in parliamentary elections. His efforts to disrupt the polls are largely ineffective.
July 2004: The U.S. government offers a $25 million bounty for al-Zarqawi.
April 2004: A court in Jordan sentences al-Zarqawi to death in absentia for his role in the October 2002 assassination of U.S. diplomat Laurence Foley.
February 2004: The U.S. government claims to have captured a computer disk containing a letter in which al-Zarqawi claims responsibility for dozens of attacks in Iraq. Washington claims the document outlines al-Zarqawi's plan to foment civil war in Iraq. The United States doubles its bounty on al-Zarqawi to $10 million.
August 29, 2003: A bomb in Al-Najaf kills more than 80 people, including leading Shi'ite cleric Ayatollah Muhammad Baqir al-Hakim. Although no one claims responsibility for the attack, many suspect al-Zarqawi or his associates.
February 2003: U.S. Secretary of State Colin Powell names al-Zarqawi as an associate of Al-Qaeda leader Osama bin Laden in the run-up to the invasion of Iraq.
April 2002: Al-Zarqawi leaves Iran and enters Iraq.
December 2001: Following the U.S. invasion of Afghanistan, al-Zarqawi flees to Iran.
2000: Al-Zarqawi sets up an Al-Qaeda training camp near the western Afghan city of Herat.
1999: Al-Zarqawi is freed from jail under amnesty granted by Jordanian King Abdullah shortly after he took office. Al-Zarqawi travels via Pakistan to Afghanistan, where he joins up with Al-Qaeda.
1994: Al-Zarqawi's first militant group, Bayt al-Imam, is broken up by Jordanian security forces, and al-Zarqawi is sentenced to 15 years in prison.
1989-93: Al-Zarqawi spends most of his time in Afghanistan, where he undergoes militant training. Returns to Jordan in 1993.
1989: Al-Zarqawi travels to Afghanistan to join Islamic groups waging war against Soviet forces. He arrives after the Soviet withdrawal, but takes part in the ensuing factional fighting.
1987: Al-Zarqawi serves a brief prison sentence in Jordan for a violent crime.
1984-86: Al-Zarqawi serves in the Jordanian military.
October 1966: Born Ahmed Fadhil al-Khalayleh in the Jordanian town of Al-Zarqah.
(compiled by RFE/RL using RFE/RL stories and media reports)
Sectarian Iraq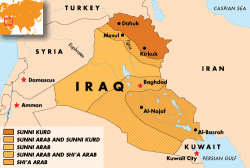 Click to enlarge the image.
SUNNI, SHI'A: Iraq is riven along sectarian lines, faults that frequently produce violent clashes and are a constant source of tension. Sectarian concerns drive much of Iraqi politics and are the main threat to the country's fragile security environment.


THE COMPLETE PICTURE: Click on the image to view RFE/RL's complete coverage of events in Iraq and that country's ongoing transition.