PRAGUE, June 13, 2006 (RFE/RL) -- The presidents of Russia, Kazakhstan, Kyrgyzstan, Tajikistan, and Uzbekistan will convene this week in Shanghai, on the banks of the Yangtze River Delta. Leaders from the four SCO observer countries and guest Afghanistan will be there, too.
But it is the attendance of Iranian President Ahmadinejad that arguably has attracted the most attention. Iran -- which along with India, Mongolia, and Pakistan has observer status -- expressed its desire to become a full member in May.
Mohammad Reza Djalili is a professor of international politics at the Geneva-based Graduate Institute of International Studies. He tells RFE/RL that he sees two major reasons for Tehran's interest in SCO membership.
"The first [reason] is ending the isolation of Iran on the international scene," Djalili says. "The other reason is to try to build a real Asian policy. 'Look [to] the east,' as they say in Tehran. And through these, they can become a more active actor in the international [politics] through the Shanghai group, and through the Asian policy that Iran [has wanted] to develop for many years."
The SCO's two heavyweights -- Russia and China -- have strong economic links to Iran. Djalili also notes that Tehran and Beijing share a common interest in countering Western clout in Asia.
Beijing Retort
China was first to dismiss U.S. concerns over the prospect of Iran's membership of the SCO, and Beijing and Moscow have consistently opposed sanctions against Iran over its nuclear ambitions.
On the sidelines of a security conference in Singapore on June 3, U.S. Defense Secretary Donald Rumsfeld questioned the prospect of SCO membership for a country that Washington accuses of terrorism.
"Here we have Iran, by everyone's testimony is the leading terrorist nation in the world," Rumsfeld charged. "It's supporting Hamas. It's supporting Hizbollah. It has a long record of being engaged in terrorist activities. To think they should be brought into an organization with the hope that it would contribute to an anti-terrorist activity, strikes me as unusual."
SCO Secretary-General and Chinese Deputy Foreign Minister Zhang Deguang came to the defense of Iran and of the SCO on June 6. He said the Shanghai group would not tolerate such accusations about its members, and that the organization would never have given observer status to any country that sponsors terrorism.
Pas De Deux
Chinese President Hu Jintao will hold bilateral talks with Iranian President Ahmadinejad on the sidelines of this week's Shanghai summit. Many observers suggest China is unlikely to endorse full membership for Iran at this juncture because of the delicate balance of power between Russia and China within the SCO.
Colonel Christopher Langton, head of defense analysis at the Washington-based International Institute for Strategic Studies, tells RFE/RL's Uzbek Service that Russia and China are unwilling to grant Iran SCO membership.
"It would be extremely difficult for Iran to be accepted as a full member of the SCO -- I mean, Iran already has observer status, of course -- while there is a disagreement between Iran and the two main powers in the SCO, namely China and Russia, who have aligned themselves with the EU-3 -- and the United States, and the United Nations Security Council are against Iranian nuclear ambitions," Langton says.
Central Asians Wary?
Uzbekistan has refrained from official comment on the topic of Iran's SCO accession. Kamoliddin Rabbimov, an independent Tashkent-based analyst, tells RFE/RL that the Uzbek government might be keen to see the SCO become more anti-Western.
"I believe Iran's accession to the organization will be in Uzbekistan's interests at the moment, because if anti-American sentiments grow within the organization and its potential to confront the U.S. and the West grows, the Uzbek government is likely to feel safer," Rabbimov says.
Uzbekistan's ties with the West have been strained since a bloody crackdown in the eastern city of Andijon in May 2005. President Islam Karimov evicted U.S. troops from Uzbek territory just months after the SCO demanded a timetable for U.S. base closures in the region.
But the three other Central Asian states in the SCO appear more wary of early Iranian membership.
Kazakhstan's foreign minister, Kasymzhomart Tokaev, on June 8 cited procedural obstacles to accepting new members and hinted there won't be any early solution.
Analysts note that Kazakh oil is now flowing to China. They also say the legal dispute over the Caspian Sea basin means Kazakh officials are not eager to see greater Iranian influence within the SCO.
In Kyrgyzstan, officials said last month that it is too early to talk about SCO expansion. They argued that the group must first focus on cementing ties among current member states.
Officials in Tajikistan were more oblique, hinting at possible future support for Iranian membership. But Tajik Foreign Minister Talbak Nazarov also warned that the SCO "cannot extend its membership indefinitely."
Shodmon Saadiev is with the Tajik Center for Strategic Studies, which operates under the aegis of the Tajik presidential administration. He tells RFE/RL's Tajik Service that economic incentives will play a major role in current members' decision-making on Iran.
"I think the economic cooperation between Iran and SCO members is a crucial point for admitting Iran into the SCO, because Iran has huge natural resources that others need -- even some Central Asian countries," Saadiev says.
Avoiding International Isolation
Avoiding International Isolation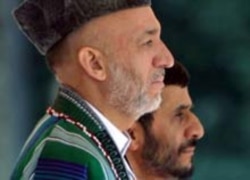 Afghan President Hamid Karzai (left) with Iranian President Mahmud Ahmadinejad in Tehran on May 27 (epa)
DIPLOMATIC OFFENSIVE:
As the United States and the European Union increase pressure on Iran regarding its nuclear program, Tehran has launched a wide-ranging and ambitious diplomatic offensive, including high-level state visits with countries including China, Indonesia, Afghanistan, Azerbaijan, and Pakistan. In May, Iranian President Mahmud Ahmadinejad participated in a high-profile
summit of the so-called Developing 8 (D8) group
of countries in Bali. Below are some links to RFE/RL's coverage of Iran's efforts to boost international support for its position.
Tehran's Shanghai Plans Seen As Bold Geopolitical Stroke
Nonaligned Movement Expresses Support For Iran
Afghan, Iranian Presidents Tout Strong Historical Ties
Iranian Foreign Minister In Pakistan For Energy Talks
Iranian Foreign Minister Visits Baghdad
ARCHIVE
To view all of RFE/RL's coverage of Iran, click here.

THE COMPLETE STORY: RFE/RL's complete coverage of controversy surrounding Iran's nuclear program.