Karzai said he was concerned about the violence, which has lead to the deaths of up to 600 people in recent weeks.
"We are concerned about the [security] situation, about the intensity of attacks on our country, and we know some of the factors behind it," Karzai said. "Our internal weakness is one of the factors, but most of it is due to outside factors and terrorism. "
Karzai said the fight against terrorism should focus on its roots including its sources and motivation.
"I did predict and expect a rise in militant activity in Afghanistan and I have [been raising] my concerns with the international community for two years in this regard," Karzai said. "I have systematically, consistently, and on a daily basis warned the international community of what was developing in Afghanistan."
Al-Zawahri Calls For Resistance
Karzai also called Al-Qaeda's second-in-command, Ayman al-Zawahri, the enemy of the Afghan people and blamed him for his country's massive suffering.
Karzai was speaking after al-Zawahri, issued a new videotape calling on Afghans to resist U.S.-led coalition forces.
In the video posted on the Internet today, al-Zawahri called on the entire country of Afghanistan to rise up against what he called infidel forces in an Islamic country. He referred to Afghanistan as an occupied country with a long history of resisting foreign invasion.
In the video, posted to the Internet today, al-Zawahri calls particularly on students in universities and schools in Kabul to stand up for Islam and Afghanistan.
Al-Zawahri appeared in a video aired by the Arabic satellite-television station Al-Jazeera earlier in June, in which he urges Palestinians to boycott a referendum on a statehood proposal that implicitly recognizes Isra
(with material from AFP, AP, Reuters)
Who Is Ayman al-Zawahri?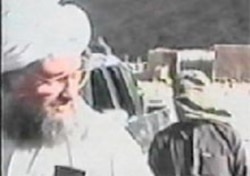 AYMAN AL-ZAWAHRI is regarded as Al-Qaeda's No. 2 authority. Although al-Zawahri is lesser known than Osama bin Laden, some observers say the deputy is just as powerful as the chief....(more)
See also:
Is Al-Qaeda Letter Sign Of Rift, Or Opportunity For Bush?