Defendants Say They Unknowingly Abetted Kazakh Opposition Killing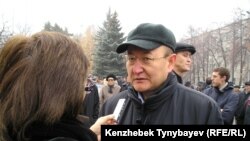 Slain opposition leader Altynbek Sarsenbaev in December 2005 (RFE/RL) June 22, 2006 -- Two defendants in the murder trial of a leading Kazakh opposition political figure have confessed to involvement in the killing, although they also claimed not to have known what would happen to the victim, RFE/RL's Kazakh Service reports.
A National Security officer, Major Nurken Edigeev, admitted that he stopped the vehicle of Altynbek Sarsenbaev, then blindfolded and handcuffed him. Edigeev said he received orders to stop Sarsenbaev's vehicle, detain him, and bring him to a prearranged location. He added that he did not know who Sarsenbaev was.

A member of the Interior Ministry's elite unit, Ergali Kasymov, meanwhile said he provided the gun used in the slaying. He said he did not know the weapon would be used in a murder.

The bullet-ridden bodies of Sarsenbaev, his bodyguard, and a driver were found on February 13.

All 10 defendants currently on trial have confessed to roles in the murders. But after the trial began on June 14, the defendants charged with actually ordering and carrying out the murders recanted their confessions.
(with additional Interfax reporting)