Global opium production is estimated to have reached 4,620 tons in 2005 -- 5 percent less than the previous year, according to the United Nations Office on Drugs and Crime's (UNODC) World Drug Report 2006, which was released on June 26.
UNODC Executive Director Antonio Maria Costa gave an overview of which countries are growing the opium.
More than a year ago the Iranian government said that greater attention needs to be given to reducing demand, but with the election of President Mahmud Ahmadinejad the old yet unsuccessful prioritization of law and order and interdiction have been reinstated.
A Good Year, But Much More To Do
"By and large, 90 percent is from Afghanistan," he said. "There is still a certain amount of cultivation -- I think over 30,000 hectares but going down rapidly -- in Myanmar [Burma]. On the 14th of February this year we certified Laos as opium free; there is practically nothing from... Thailand; about 5,000-6,000 hectares were detected over time in Colombia -- to some extent eradicated but some is still there -- and the Colombia crop goes to the United States while the Afghanistan crop goes basically to Europe, China, and Russia."
Overall cultivation figures from Afghanistan have fallen, but cultivation in some areas of the country has increased. There are indications, furthermore, that opium poppy planting increased this year, particularly in the south.
Some 24 percent of all the opiates produced annually are eventually seized by security forces. Afghanistan produced some 4,100 tons of opium in 2005, so it is natural that its neighbors -- Iran, Pakistan, and China -- accounted for the highest seizure rates.
Reducing Demand Also Important
But Costa says it is not enough to interdict drugs or even to eliminate opium crops. Costa recommended aggressive measures be made to reduce demand for narcotics.
"We can consider drugs as an addiction problem and therefore a behavioral problem," he said. "We can consider drugs as a cultivation [and] an economic problem; but by and large it's a market, with a demand and a supply. An illicit market -- an 'evil' market, if you wish -- but still it has a demand and a supply. Like for any other product, if you cut the supply the demand persists. Something is going to happen. First of all the price will skyrocket."
Costa added that more people will enter the drug business as it becomes more lucrative, and therefore more land will be devoted to drug production. It is also possible that heroin addicts will turn to other drugs that could be more dangerous.
"Therefore, my plea is indeed to forcefully act on curbing the cultivation, and also, and perhaps even more forcefully, acting on reducing demand, namely abuse, namely consumption."
According to the UN report, narcotics trafficking to Central Asia and Pakistan has decreased, whereas trafficking towards Iran has increased. Almost 60 percent of Afghan opiates go to or through Iran and, according to the UNODC, this figure will rise.
But UNODC chief Costa also pointed out that Africa is playing an increasingly important role in drug trafficking as interdiction efforts make it more difficult for traffickers to use traditional routes.
"Africa is under threat. Nobody suspects transhipment of narcotics from Africa into Europe," Costa said. "Therefore, traffickers are using Africa to tranship cocaine coming from Colombia and the [Andes mountain region] and heroin coming from South Asia and Afghanistan, in particular."
Drugs Causing Problems In Iran
The amount of narcotics entering Iran is having a profound impact on public health. Dr. Mohammad Mehdi Gooya, the chief of the Iranian Health Ministry's disease-management center, said in April that approximately 3.7 million Iranians abuse drugs, "Mardom Salari" reported on April 18. He said there are 2.5 million addicts, and that some 137,000 inject drugs occasionally.
Gooya said that research conducted five years earlier in six cities in Tehran Province found that many addicts are female sex workers.
He added that, "Some 94.8 percent of AIDS patients are men, and 64.3 percent of them caught the disease through the use of infected and shared syringes, while only 7.3 percent caught AIDS through sexual intercourse."
The impact of narcotics on the Iranian penal system is noticeable as well. More than 60 percent of the country's convicts, Iranian officials say, have been imprisoned for drug-related crimes. And more than 10,000 narcotics traffickers and drug users have been executed over the past few decades, while hundreds more face the death penalty.
Ali Akbar Yesaqi, the head of Iran's Prisons, Security, and Corrections Organization, said some 50,000 people go to prison every month, "Aftab-i Yazd" reported on June 14. Yesaqi said that the prison population increased by 1.7 percent in the last year. He added that some 70 percent of the prisoners seek drugs, and he admitted that it is difficult to prevent drugs from getting into prisons.
Another prison organization official, Mohammad Ali Zanjirei, said drug-related crimes are the most common in 19 of Iran's 30 provinces, "Aftab-i Yazd" reported on June 20.
The narcotics trade is not just having an impact on the public-health sector and the penal system. The Iranian government says more than 3,000 security officers have lost their lives fighting drug trafficking, and Tehran asserts that it has spent billions of dollars creating static defenses along its 1,800 kilometer border with Afghanistan and Pakistan. As most of the drugs smuggled into Iran are destined for Europe, Iranian officials say Western states should be greater financial support to their efforts.
Iranian Officials Speak Out
Fada Hussein Maleki, the secretary-general of Iran's Drug Control Headquarters, addressed these issues in a speech before the June 23 Friday Prayers sermon at Tehran University. He criticized American and British efforts in Afghanistan because of the failure to stop drug trafficking, and he accused them of wanting to legalize opium cultivation, IRNA reported. Maleki added that the prevalence of crystal methamphetamine, Ecstasy, and other synthetic drugs is complicating the situation in Iran.
Expediency Council Chairman Ayatollah Ali-Akbar Hashemi-Rafsanjani dedicated a great deal of his June 23 sermon in Tehran to counternarcotics as well. In countries like Iran, he said, synthetic drugs are more dangerous than opium, state television reported.
Hashemi-Rafsanjani failed to discuss Iranians' demand for drugs, and he focused instead on the supply side, for which he blamed other countries. He referred to "traces of colonialism" and added: "We realize that the leaders of all these major trafficking bands that we arrest are supported by colonial countries." The West could wipe out opium in Afghanistan by using chemical sprays, Hashemi-Rafsanjani continued, and if it can track down terrorists hiding in caves, why can't it deal with narcotics dealers in the streets and heroin-manufacturers?
Iran's Expediency Council is revising current laws, Hashemi-Rafsanjani told the congregation, but the police, Ministry of Intelligence and Security, and legislature must work together as well to help combat drug use and trafficking. Public awareness is important, too, he said. "After all, if we can change the destiny of a young addict, be it a boy or a girl, and give proper guidance to a household where an addicted person was brought up, we can help prevent others from falling into this dangerous trap." Hashemi-Rafsanjani called on all citizens to work against drugs: "We should all join hands and act together to tackle the problem."
It is notable that for UNODC chief Costa reducing the demand for drugs is the most important issue, whereas Iran's leaders seem to continue to focus on reducing the supplies of drugs. More than a year ago the Iranian government said that greater attention needs to be given to reducing demand, but with the election of President Mahmud Ahmadinejad the old yet unsuccessful prioritization of law and order and interdiction have been reinstated.
Iran's Drug Problem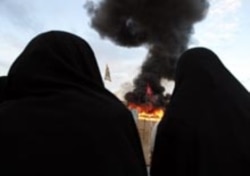 READ
DRUG USE ON THE RISE:
The Iranian approach to drug control is very relevant to the rest of the world, because Iran's neighbor, Afghanistan, is the world's leading producer of opium. Iran leads the international community in global opium seizure rates and it is second to Pakistan in opiate seizures, according to the UN Office on Drugs and Crime. Iran also leads the world in the prevalence of drug abuse (2.8 percent of the population aged 15 or older), according to the UNODC.
(more)
See also:
Iran: Country's Drug Problems Appear To Be Worsening
New Ways Considered For Tackling Growing Drug Use Among Young Iranians


SUBSCRIBE: For weekly news and analysis on Iran by e-mail, subscribe to "RFE/RL Iran Report."