Russia: Journalists, Activists Awarded For Their Work In Chechnya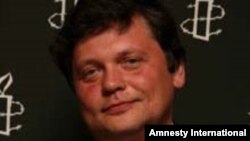 Stanislav Dmitriyevsky at the Amnesty ceremony in London (AI) PRAGUE, June 27, 2006 (RFE/RL) --  The human rights watchdog Amnesty International today presented two Russian human rights activists/journalists with an award for their work in Chechnya and elsewhere in the North Caucasus.
The Journalism Under Threat prize was awarded during a ceremony in London to Stanislav Dmitriyevsky and Oksana Chelysheva, both representing the Russian-Chechen Friendship Society.

The two head the Russian-Chechen Friendship Society, a nongovernmental organization that disseminates information about the human rights situation in Chechnya and legally defends the interests of victims of the Chechen war.

High-Pressure Work
Dmitriyevsky tells RFE/RL that although the organization continues its work despite pressure from the authorities.
"You go to Chechnya and meet just another powerless human being who needs help and it is difficult to stop helping."
"We are producing news items about the human rights situation in the Chechen Republic," Dmitriyevsky said. "We produce them almost on a daily basis. In the near future we plan to resume publication of the newspaper 'Pravozashita' ['Rights Protection']."

The Russian-Chechen Friendship Society is based in Nizhny Novgorod and has branch offices in Chechnya (Grozny) and the neighboring republic of Ingushetia (Nazran). Since its founding in 2000 it has become a mouthpiece of criticism against human rights violations in Chechnya and surrounding areas.

Dimitriyevsky, who is also the editor in chief of "Pravozashita," attracted the attention of authorities last September when the newspaper published an appeal for peace by the leader of Chechnya's separatist leader at the time, Aslan Maskhadov, and by his representative, Akhmed Zakayev.

For publishing the appeals, Dimitriyevsky was charged by prosecutors in Nizhny Novgorod with "inciting hatred or enmity on the basis of ethnicity and religion."

The Russian-Chechen Friendship Society was not shut down, but the fallout resulted in the suspension of the publication of "Pravozachita" and state tax authorities continue to investigate the organization for possible financial violations.
Threats And Intimidation
And Dimitriyevsky and Chelysheva have encountered other problems resulting from their work -- including several anonymous death threats.
Chelysheva says sometimes defending human rights in Chechnya seems like an impossible mission in Russia. But she also says the importance of the NGO's work provides her with ample motivation to carry on.
"You go to Chechnya and meet just another powerless human being who needs help and it is difficult to stop helping," Chelysheva said. "Yes, I want to rest. We are all human; we need normal life; we need positive impressions -- but so far we cannot afford them."
Chelysheva says she receives encouragement from telephone calls and letters from throughout Russia in which people express their thanks for the work carried out by the organization.
"Amnesty International believes that these two people's lives are actually at risk."
Neil Durkin, a spokesman for Amnesty International in London, tells RFE/RL that Dmitriyevsky and Chelysheva were awarded the Journalism Under Threat prize because of their courage.
"Stanislav and Oksana have been presented with this award from Amnesty because we consider that their work for the Russian-Chechen [Friendship Society] information agency, which of course they run, to be particularly important and dangerous work in effect now in modern-day Russia," Durkin said.
Ambitious Award
Noting that Dmitriyevsky and Chelysheva have received death threats because of their work, Durkin expresses hope that the award might provide some sort of support and cover for them as they work to bring attention to the human right situation in Chechnya.
"Amnesty International believes that these two people's lives are actually at risk," Durkin said. "If we can present an award to journalists and it gives them an extra degree of safety and public recognition, then that is indeed what we are trying to do."
Durkin says the reward is not about money and involves no financial benefit. Rather, he says, it is a tribute to activists and journalists working in dangerous places throughout the world.
Last year, the award was presented to Guatemalan journalist Marielos Monzon for her reporting on the human rights situation in Guatemala.
(RFE/RL's Russian Service contributed to this report.)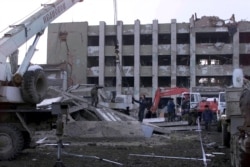 The aftermath of a December 2002 Chechen resistance attack on the main government building in Grozny (epa)


CHRONOLOGY
The
fighting in Chechnya
has raged, with short breaks, since 1994. It has brought misery, death, and destruction to the North Caucasus republic and to Russia as a whole. View an
annotated timeline
of the conflict.

ARCHIVE
RFE/RL's complete coverage of Russia's war-torn Republic of Chechnya.