Speaking to officials from the Kremlin-backed Unified Russia party,
Putin said Russia's optimal development will come only through genuine
debate and discussion about policy.
Critics have accused the Putin
administration of centralizing power and stiffling independent media
and the oppposition in recent years.
(AP)
Russian Regional Television
Russian Regional Television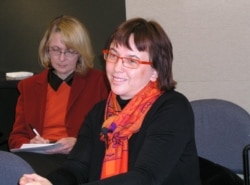 Floriana Fossato speaking at RFE/RL on March 22 (RFE/RL)
IS THE KREMLIN MOVING IN? On March 22, FLORIANA FOSSATO, a political analyst with University College London who specializes in Russian-media issues, gave a briefing at RFE/RL's Washington headquarters. Fossato noted that there are some 1,500 television companies in the Russia regions, approzimately half of them privately owned. She argued that the tone and detail of national events covered on local television often differs markedly from the way the same events are framed by the more directly controlled national television channels. She outlined Kremlin efforts, including the creation of a new state-owned national television channel for the regions and new advertising regulations, that could signal a concerted effort to make Russia's "information space" more uniform in the run-up to national elections in 2007 and 2008.
Listen to the entire briefing (about 60 minutes):
Real Audio Windows Media
See also:
Russia Gears Up To Improve Its Image Abroad
Patriotic TV Channel Nearing Launch, But Will Anyone Watch?
New International Channel Ready To Begin Broadcasting
New TV Channel To Tend To Country's Spiritual Needs


For regular news and analysis on media issues throughout RFE/RL's broadcast area by e-mail, subscribe to "RFE/RL Media Matters."