Delegates say they want to send a message to the G8 governments that the fight against terrorism must not come at the expense of human rights and democracy.
The Moscow Helsinki Group, Memorial, and Amnesty International are among the groups attending the conference.
Later today, religious leaders from more than 40 countries are expected to open a separate Faith Summit in Moscow. Organized by the Russian Orthodox Church, the meeting will focus on the role of religion in society and the protection of moral values.
The Vatican delegation will be headed by Cardinal Walter Kasper, head of the Vatican's Council for Christian Unity.
(AP, AFP, ITAR-TASS)

MORE: For more coverage of this topic from RFE/RL's Russian Service in Russian, click here.
The Russian Orthodox Church
The Russian Orthodox Church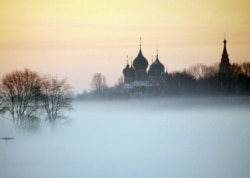 An Orthodox church in the Russian city of Yaroslavl (TASS file photo)

CHURCH AND STATE: The Russian Orthodox Church is not only Russia's major religious confession, but also a powerful force in the political and social life of the country. President Vladimir Putin and other leading figures are conspicuous adherents and frequently meet with senior members of the Church hierarchy. Increasingly in recent years the Church has sought to play a larger role in determining Russia's domestic and foreign policies. In April, the Church hosted a major conference devoted to the theme of Russia's role in the 21st-century world....(more)
RELATED ARTICLES
Orthodox Church Discusses Morality And Human Rights
Russian Church Blames Hate Crimes On Amorality
Orthodox And Catholics -- Heading Toward Reconciliation?
Rights Groups Say Country Intolerant To Minority Religions
Orthodox Church States Its Case For More Involvement In Foreign, Domestic Policies

WEB SPECIAL: A thematic webpage devoted to issues of religious tolerance in RFE/RL's broadcast region and around the globe