Ukrainian Parliamentary Talks Fail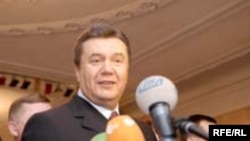 Viktor Yanukovych (file photo) (RFE/RL) July 3, 2006 -- Talks aimed at resuming activity in Ukraine's parliament broke down today.
Ukraine's governing coalition and opposition failed to start a round-table discussion because the leader of the pro-Russian Party of Regions, Viktor Yanukovych, had not showed up.
Mykola Tomenko, a top ally of would-be Prime Minister Yuliya Tymoshenko, said there was no point to the meeting without Yanukovych.
The Party of Regions began blocking the parliament last week as the new coalition planned a vote on naming Tymoshenko prime minister.
There is no indication when a new attempt will be made to start the assembly.
(AP)
BEHIND THE IMAGES: Click on the links below to read RFE/RL's profiles of some of the key players in Ukraine's March 26 legislative elections:

Click on the image for background and archived articles about Ukraine's March 26 elections.




Click on the image to see RFE/RL's coverage of the Ukrainian elections in Ukrainian.

Click on the image to view a photo gallery of some of the key players in the Ukrainian elections.