Kazulin, a former presidential candidate, stands accused of disturbing the peace and incitement to riot during protests in Minsk in the run-up to and following Belarus' presidential election in March.
He was arrested during a March 25 protest against the poll in which President Alyaksandr Lukashenka was reelected.
The opposition and Western governments say the election was fraudulent.
If convicted, Kazulin could face up to six years in prison. The opposition has denounced the trial as political.
Kazulin's supporters and many journalists were unable to enter the courtroom. But 10 European Union ambassadors forced their way in after challenging police to use force against the diplomats.
A crowd of more than 100 opposition supporters, led by top Belarusian opposition leader Alyaksandr Milinkevich, had gathered outside the courthouse as the hearing began.
(Belapan, dpa)
Minsk, March 25
THE AUTHORITIES GET TOUGH: RFE/RL's Belarus Service filed these images from the police action against the March 25 demonstration in Minsk. Photographs by Maks Kapran.
LISTEN
Listen to the sounds of the demonstration:
Real Audio Windows Media
Real Audio Windows Media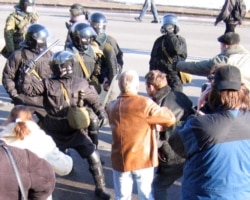 (RFE/RL)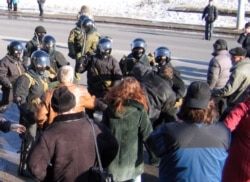 (RFE/RL)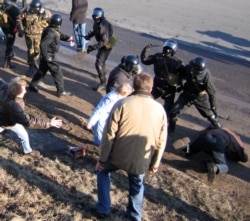 (RFE/RL)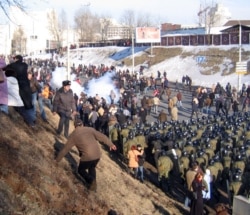 (RFE/RL)

THE COMPLETE PICTURE:
Click on the image to view a dedicated page with news, analysis, and background information about the Belarusian presidential ballot.


COVERAGE IN BELARUSIAN: Click on the image to view RFE/RL's coverage of the election campaign in Belarusian and to listen to RFE/RL's Belarusian Service.