North, South Korea Hold First Talks Since Missile Crisis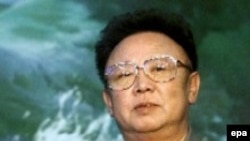 Kim Jong-Il, the leader of North Korea (file photo) (epa) July 11, 2006 -- A North Korean delegation arrived in South Korea today for the first high-level inter-Korean talks since Pyongyang's missile tests last week raised regional tensions.
South Korea has said it will use the talks to raise concerns over the north's missile tests, which provoked international condemnation.
The talks are taking place in the southern port city of Pusan and will end on July 14.
(AFP, Reuters)