PRAGUE, July 11, 2006 (RFE/RL) -- Washington has sought to reassure Afghan President Hamid Karzai of its lasting support and commitment as security continues to deteriorate in the south of the country.
Today in Kabul, Rumsfeld said the planned reduction in U.S. troop numbers does not mean that Washington has lost interest in Afghanistan.
"The United States will continue with its counterterrorism efforts working with the Afghan security forces," Rumsfeld said. "It will continue working with the Ministry of Defense and the Ministry of Interior on the strengthening of the Afghan security forces."
Karzai Welcoming Of U.S. Support
President Karzai reiterated that his country needs U.S. support as it fights a growing insurgency.
"If the question is whether we still need the U.S. assistance? [The answer is] very, very much," Karzai said. "Whether we still need the U.S. assurance? Very, very much. Whether we still need the U.S. participation? Very strongly, yes."
The coalition announced today that its forces killed 30 suspected Taliban fighters in early morning combat in the southern Helmand Province.
More than 700 people have been killed in recent months in Afghanistan in escalating violence blamed on armed insurgents or terrorists.
The U.S. defense secretary said in Kabul that "cross-border" activity is behind some of the violence and called for more cooperation from Afghanistan's neighbors to stop the violence.
"There is no question that there is some cross-border activity -- Taliban and Al-Qaeda -- and that the cooperation that we have with some of the neighbors has been helpful," Rumsfeld said. "But it has not yet completely reduced the cross-border violence, and it is something that needs to continue to be worked on both sides of the border."
Appeals To Brussels, Moscow
Rumsfeld called on Europe to provide a "master plan" for Afghanistan to help stem the narcotics trade that he said was helping fund militants in Afghanistan.
He made a similar call on July 10 in the Tajik capital, Dushanbe, urging European and Russian support for the Afghan government.
"Western Europe ought to have an enormous interest in the success in Afghanistan, and it's going to take a lot more effort on their part for [President] Karzai's government to be successful," Rumsfeld said.
President Karzai said today that his government is working with the international community to defeat what his government calls "the enemies of Afghanistan" and improve the security situation.
Border Region
Senior Afghan officials have repeatedly accused authorities in neighboring Pakistan of failing to adequately counter cross-border terrorism targeting the government in Kabul.
Karzai today included a reference to the area of their mutual border among the factors contributing to increased terrorist activity.
"The internal reasons are the weakness of our police force in [some] districts of the country, especially in the areas of the country bordering with Pakistan -- we have no strong police force [there]," Karzai said.
In what was seemingly a veiled reference to Pakistan, Karzai said the continuation of "supply, ideological motivation, [and] training grounds" for terrorists are among the things outside the country fueling the violence.
But he also told terrorists that they will lose their fight in Afghanistan.
"The defeat [of terrorism] is certain," Karzai said. "What we are trying to achieve is to make that [victory] sooner for us, and for the rest of the world. So the war against terrorism is not [being lost]. It has [already been won]. The remnants [of terrorist elements] are there, but we must clean [them] out."
Rumsfeld also said today that Taliban militants will be defeated in Afghanistan.
On July 10, the United Nations' top envoy to Afghanistan, Tom Koenigs, expressed concern at the deteriorating security situation in southern Afghanistan. But he added that -- in his words -- "backing away is not an option."
Koenigs told reporters today that the international community needs to provide greater financial, military, and political support to fight the insurgency in Afghanistan. He added that the problem of "havens" for terrorists and insurgents outside Afghanistan must be addressed.
Saving Afghanistan's Heritage
Saving Afghanistan's Heritage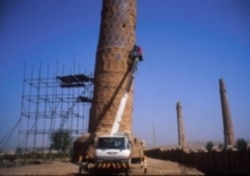 A UNESCO team working to stabilize Herat minarets in 2003 (UNESCO)

THE MINARETS OF HERAT: In Afghanistan's leafy western city of Herat, a two-lane road slices between the city's five remaining 15th-century minarets. Every truck, car, bus, motorcycle, and horse-drawn carriage that passes by sends vibrations coursing through the delicate structures.
In particular, the Fifth Minaret -- all 55 meters of it -- seems ready to collapse into a dusty heap of bricks and colored tiles at any moment. A large crack near its base makes drivers speed up just a little as they pass by....(more)



Click on the image to view an audio slideshow of this story by RFE/RL correspondent Grant Podelco.



RELATED ARTICLES
Afghanistan Protects Storied Bactrian Treasure
Archeologist Hunts For Third Bamiyan Buddha
Musicians Struggling To Revive Classical Heritage After Taliban
ARCHIVE
To view RFE/RL's complete coverage of Afghanistan,
click here
.

SUBSCRIBE
For weekly news and analysis on Afghanistan by e-mail, subscribe to "RFE/RL Afghanistan Report."