Russia: Confident Kremlin Prepares To Preside Over G8 Summit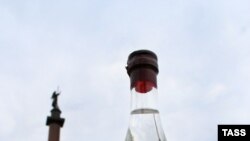 Is Russia's confidence based on false courage? A bottle of "Special Order G8" (ITAR-TASS) This week, all eyes are turned on Russia as it prepares to host the summit of the Group of Eight (G8) most industrialized nations for the first time. Moscow is using the opportunity to flex its muscles -- the Russian leadership, emboldened by Russia's booming economy and its growing international status as a key energy supplier, has adopted a particularly confident tone. In contrast, Western leaders seem to be approaching the G8 summit in July with a rather weak hand and few levers to press their own agenda.
MOSCOW, July 12, 2006 (RFE/RL) -- How times have changed since the Soviet Union made its first appearance at a summit of the Group of Seven industrialized nations in 1990.

The Soviet Union no longer exists, of course, and Mikhail Gorbachev is no longer president. But it is not just the state that has changed.

The Transformation
Back then, the country was teetering on the verge of collapse.

Standing between the towering German Chancellor Helmut Kohl and U.S. President George Bush, Gorbachev cut a rather humble figure. He had come to Houston to plead for help.

Russia has come a long way since then.

In 1998, it joined the club of rich nations, expanding it to the current G8. And on July 15-17, it is hosting the G8 summit in St. Petersburg as this year's chairman.

Nikolai Petrov, a political analyst at the Carnegie Center in Moscow, says for Russia the summit is all about image and international prestige.

"For Russia, symbolic results are more important than concrete accords," Petrov said. "It is very important for Russia to prove itself as a full member of the club, as its president, to bring to the fore those issues where Russia can play the role of a leading country, including issues related to energy security."

Russia's new global clout, fueled by its role as a key energy supplier, has boosted the confidence of the Kremlin.

Its leaders are growing increasingly assertive vis-a-vis the West and its traditional foe, the United States. Moscow is challenging Washington on a range of foreign-policy issues such as the war in Iraq and Iran's nuclear program.

Timing Is Everything
Observers say the St. Petersburg summit comes at an advantageous time for Russia. While Putin basks in petrodollars and huge popularity rates, a number of Western leaders are weakened by political, economic, and domestic tension.

U.S. President George W. Bush and British Prime Minister Tony Blair in particular have come under stinging international criticism for invading Iraq in 2003.

The political malaise that hangs over them may make it difficult for Western leaders to promote their agenda persuasively during the upcoming summit.

Robert Wade, a professor of political economy and development at the London School of Economics, says Europe is currently too divided to counter Russia's influence.

"The EU in particular has become rather weak in terms of formulating common positions in its external engagements, and that allows relatively authoritarian states like the [former] Soviet Union and even, one might say, the U.S. at the moment, to exercise quite a lot of influence against disunited positions of other members," Wade said.

In comparison, Russia appears on a crest of optimism. Vladimir is a 37-year-old manager in a Moscow firm.

"I feel great pride," he said. "This is an achievement for our country. It is obvious that our country is growing stronger."

Tatyana, a 65-year-old doctor, agrees.

"It is a matter of pride, because our country is achieving certain successes," Tatyana said. "Our leaders understand how important it is that we, a country that was asking for help under [President Boris] Yeltsin, become a donor country, a country that has its weight and its say on the international arena. One can say that the first successes can be seen."
Russian Insecurity
But how solid is Russia's newly found confidence?

According to Boris Kagarlitsky, the director of the Globalization Institute in Moscow, this brashness hides a profound feeling of insecurity.

"Despite constant declarations that we are confident, that we feel new and that everything is fine, one feels a deep lack of confidence," Kagarlitsky said. "And this is a source of many problems, both for the government and for society. On the one hand, Russia's position looks like it has significantly improved, but on the other hand it is still very vulnerable and unstable. The Russian elite understands this, and this is precisely why Putin and his entourage are rushing to make the most of the concrete advantages they have right now."

Besides buffing up its international image, Moscow is likely to use the G8 summit to push its energy agenda.

Russia is seeking to expand oil and gas sales and invest in energy facilities in Europe and the United States. But its reputation as a reliable energy supplier was badly damaged in January when a spat over gas tariffs with Ukraine temporarily disrupted supplies to Europe.

In exchange for broader access to foreign markets, G8 countries are demanding that Russia open its energy industry to foreign investors, which would effectively break up Gazprom's monopoly on gas exports to Europe.
MORE: For coverage of this topic from RFE/RL's Russian Service in Russian, click here.
Russia's Democratic Development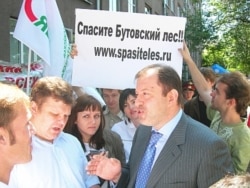 Demonstrators speak with local politicians in Butovo about the destruction of a local forest in July 2006 (RFE/RL)

IS RUSSIAN DEMOCRACY MANAGING? Russian President Vladimir Putin has said Western powers seek to pressure Russia under the pretext of concern over its democratic development. He has said Russia is ready to listen to "well-intentioned criticism," but will not allow anyone to interfere in its internal affairs. The Kremlin has been criticized for stifling political oppostion, increasing central control over the media, and cracking down on the work on nongovernmental organizations.
RELATED ARTICLES
Concerns Raised About Moscow Chairing Rights Committee
Using Racism Is A Time-Honored Kremlin Tool
Putin Comes Under Fire At Global Media Congress
Oligarch's Case A Sign Of The Times
'Letter Of 100' Warns That Putin Is Suppressing Democracy
A Hard-Line Agenda For Putin's Second Term
Book Says Putin's Russia Falls 'Between Democracy and Dictatorship'
NGOs Denounce Status Changes As Move To Curb Activities
Scrutiny Of Foreign Funds Hurts Democracy Programs
U.S. Official Says Russian NGO Law Part Of Antidemocratic Trend

SUBSCRIBE
For news and analysis on Russia by e-mail,
subscribe to "RFE/RL Russia Report."