Organizers say the main goal of the two-day conference is to give a signal that there is a "different Russia" ahead of the July 15-17 G8 summit in St. Petersburg.
Former chess champion Garry Kasparov and other opposition leaders opened the conference. Former Prime Minister Mikhail Kasyanov, who has signaled his intention to run for president in 2008, is among the participants, as is Andrei Illarionov, an outspoken former economic adviser to President Vladimir Putin who resigned in protest in late 2005 against the rise of what he called a "corporate state.
The state-run daily newspaper "Rossiiskaya gazeta" commented on July 11 that the circumstances surrounding the Other Russia meeting reflect the deep divisions within the opposition.
Conference organizers said some of the activists were detained and beaten ahead of the Moscow forum.
Western diplomats, inlcuding British Ambassador to Russia Anthony Brenton, U.S. Assistant Secretary of State for Democracy, Human Rights, and Labor Barry Lowenkron, and U.S. Assistant Secretary of State for European and Eurasian Affairs Daniel Fried, are attending the conference.
The two main liberal parties, Yabloko and the Union of Rightist Forces, are boycotting the event over the participation of what they consider to be nationalist and extremist groups.
(AP, Interfax)
MORE: For coverage of this event from RFE/RL's Russian Service in Russian, click here.
The Russian Orthodox Church
The Russian Orthodox Church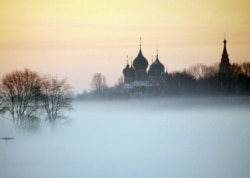 An Orthodox church in the Russian city of Yaroslavl (TASS file photo)

CHURCH AND STATE: The Russian Orthodox Church is not only Russia's major religious confession, but also a powerful force in the political and social life of the country. President Vladimir Putin and other leading figures are conspicuous adherents and frequently meet with senior members of the Church hierarchy. Increasingly in recent years the Church has sought to play a larger role in determining Russia's domestic and foreign policies. In April, the Church hosted a major conference devoted to the theme of Russia's role in the 21st-century world....(more)
RELATED ARTICLES
Orthodox Church Discusses Morality And Human Rights
Russian Church Blames Hate Crimes On Amorality
Orthodox And Catholics -- Heading Toward Reconciliation?
Rights Groups Say Country Intolerant To Minority Religions
Orthodox Church States Its Case For More Involvement In Foreign, Domestic Policies

WEB SPECIAL: A thematic webpage devoted to issues of religious tolerance in RFE/RL's broadcast region and around the globe