PRAGUE, July 13, 2006 (RFE/RL) -- Haji Abdul Khaliq Mujahid is angry over U.S.-led coalition operations against the Taliban in his province of Oruzgan.
Mujahid says U.S. and Australian troops last week opened fire on his family as they traveled by car from Oruzgan to the main hospital in Kandahar for a medical checkup. His brother-in-law was killed and five others were injured, including his wife and two of his children.
Differing Accounts
The coalition denies any involvement. Coalition spokesman Lieutenant Colonel Paul Fitzpatrick has suggested that the legislator's complaints could be "extremist propaganda."
That infuriates Mujahid. The lawmaker contends that official battle casualties in Afghanistan are the propaganda of the U.S. military, with innocent civilians who are killed often counted as "suspected Taliban."
"The Taliban started to flee from the village when the bombing started. [I was lying on the ground] and one of the Taliban actually stepped on my hand as he ran away. And after they left, we still came under fire."
In Oruzgan's latest violence, U.S. officials say coalition air strikes on July 10 killed 40 suspected Taliban fighters at villages near the provincial capital of Tarin Kot.
But Mujahid tells RFE/RL the death toll was higher -- and that many innocent civilians were among the dead and injured.
"About 60 people -- including men, women, children, young people, and the elderly -- have been martyred," Mujahid says. "Up to 40 others were wounded."
A U.S. military spokesman in Kabul told RFE/RL that the coalition has no information about civilian casualties as a result of those operations near Tarin Kot.
Injured Speak Out
But RFE/RL's correspondent in Kandahar spoke with women hospitalized with shrapnel wounds from the air strikes. One injured woman, who asked not to be identified, told RFE/RL from her hospital bed that Taliban fighters had been hiding in her village of Karak when coalition planes started to drop bombs.
"The planes were flying very low and the pilots did not seem to be paying attention to [what they were attacking]," she said. "The Taliban started to flee from the village when the bombing started. [I was lying on the ground] and one of the Taliban actually stepped on my hand as he ran away. And after they left, we still came under fire."
The woman says five people from her village were killed -- including members of her family and neighbors -- and that others were injured. Residents of two nearby villages also complain of civilian casualties.
The incidents reflect a pattern seen in other parts of southern Afghanistan since coalition forces launched Operation Mountain Thrust in mid-May. It is their largest offensive against militants in Afghanistan since the ousting of the Taliban regime from Kabul in late 2001.
Nowhere To Turn
Afghans injured by coalition air strikes in Kandahar, Helmand, and Oruzgan provinces all confirm that Taliban fighters were in their villages when the attacks came. The villagers complain that their lives are threatened by Taliban if they refuse to help the militants, but they are bombed by coalition aircraft if they offer to help militants.
According to statistics released by the U.S. military, more than 1,100 people have been killed in southern Afghanistan by fighting between coalition forces and the Taliban since January. About 800 of those deaths have come in the two months since Operation Mountain Thrust began.
Although U.S. officials do not keep statistics on civilian deaths, the Afghan Independent Human Rights Commission does. Commission spokesman Nader Nadery tells RFE/RL that at least half of people killed in fighting so far this year are thought to have been civilians.
"There are no exact figures," Nadery says. "But the Afghan Independent Human Rights Commission, especially our offices in the provinces, have recorded some figures that show more than 600 civilians have lost their lives in recent months as the result of terrorist acts or counterterrorism operations."
Taliban violence this year began to rise in March with a series of suicide bombings, rocket and mortar attacks, and bold frontal assaults against coalition outposts. Nadery stresses that those attacks also account for the 600 documented civilian deaths:
"The Afghanistan Independent Human Rights Commission has expressed concern about the deaths of civilians many times -- especially during the past year that terrorist operations have increased," Nadery says. "At the same time, counterterrorism operations have also been expanded. But unfortunately civilians have been the main victims of the growing insecurity and the increase in terrorist operations in Afghanistan."
Afghan Defense Minister Major General Rahim Wardak tells RFE/RL that no innocent civilians were killed by the July 10 air strikes. Nevertheless, he says government delegates were sent to Oruzgan and Helmand today to investigate complaints of civilian deaths in both provinces.
(Contributors to this story include Radio Free Afghanistan's Jawed Ahmad Wafa in Kandahar, Mustafa Sarwar and Freshta Jalalzai in Prague, and RFE/RL's Golnaz Esfandiari in Prague.)
Afghanistan And Pakistan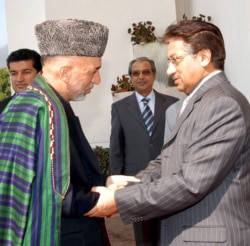 Afghan President Hamid Karzai (left) with Pakistani President Pervez Musharraf in Islamabad in October 2005 (epa)

ACROSS A DIFFICULT BORDER. The contested border between Pakistan and Afghanistan is some 2,500 kilometers long and runs through some of the most rugged, inhospitable territory on Earth. Controlling that border and preventing Taliban militants from using Pakistan as a staging ground for attacks in Afghanistan is an essential part of the U.S.-led international coalition's strategy for stabilizing Afghanistan. Officials in Kabul have been pointing their fingers at Pakistan for some time, accusing Islamabad or intelligence services of turning a blind eye to cross-border terrorism targeting the Afghan central government. Many observers remain convinced that much of the former Taliban regime's leadership -- along with leaders of Al-Qaeda -- are operating in the lawless Afghan-Pakistani border region.... (more)
RELATED ARTICLES
Pakistan-Afghanistan Conflicts Continue
Karzai, Musharraf Spar Ahead Of Bush Meeting
Musharraf Says Taliban Could Spark Pashtun 'National War'
Afghan Minister Attacks Pakistani Support For 'Terrorism'
Historical Context Of Afghan-Pakistani Relations
Afghanistan/Pakistan: 'Inseparable Twins' In Need Of Separation
ARCHIVE
RFE/RL
coverage of Afghanistan
. RFE/RL
coverage of Pakistan
.
SUBSCRIBE
For weekly news and analysis on Afghanistan by e-mail,
subscribe to "RFE/RL Afghanistan Report."