An Afghan army commander, Abdul Wahab Walizada, said the explosion targeted a joint Afghan-coalition patrol in Herat's Shindand district, destroying one vehicle.
The patrol was taking part in Operation Mountain Thrust, a U.S.-led offensive targeting Taliban militants across southern Afghanistan.\Meanwhile, a suicide attacker killed four civilians and wounded 23 today by detonating a bomb in a busy street outside a government building in southeastern
Afghanistan.
An Interior Ministry spokesman said the attack took place in Gardez, capital of Paktya Province, at an office that handles border affairs. Eight of the wounded are in serious condition.
In Khost Province, militants dressed as women have killed two Afghan men and wounded another in a drive-by shooting.
The U.S. military said today that the attack on July 15was carried out by men wearing burquas -- the all-covering veil traditionally worn by Afghan women.
The motive for the attack was unclear. It came on a day when more than 40 insurgents were killed in clashes with U.S. forces.
(AP)
Afghanistan And Pakistan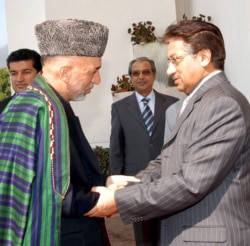 Afghan President Hamid Karzai (left) with Pakistani President Pervez Musharraf in Islamabad in October 2005 (epa)

ACROSS A DIFFICULT BORDER. The contested border between Pakistan and Afghanistan is some 2,500 kilometers long and runs through some of the most rugged, inhospitable territory on Earth. Controlling that border and preventing Taliban militants from using Pakistan as a staging ground for attacks in Afghanistan is an essential part of the U.S.-led international coalition's strategy for stabilizing Afghanistan. Officials in Kabul have been pointing their fingers at Pakistan for some time, accusing Islamabad or intelligence services of turning a blind eye to cross-border terrorism targeting the Afghan central government. Many observers remain convinced that much of the former Taliban regime's leadership -- along with leaders of Al-Qaeda -- are operating in the lawless Afghan-Pakistani border region.... (more)
RELATED ARTICLES
Pakistan-Afghanistan Conflicts Continue
Karzai, Musharraf Spar Ahead Of Bush Meeting
Musharraf Says Taliban Could Spark Pashtun 'National War'
Afghan Minister Attacks Pakistani Support For 'Terrorism'
Historical Context Of Afghan-Pakistani Relations
Afghanistan/Pakistan: 'Inseparable Twins' In Need Of Separation
ARCHIVE
RFE/RL
coverage of Afghanistan
. RFE/RL
coverage of Pakistan
.
SUBSCRIBE
For weekly news and analysis on Afghanistan by e-mail,
subscribe to "RFE/RL Afghanistan Report."