Charity groups told a briefing today on the sidelines of the G8 summit in St. Petersburg that the leaders of the world's leading industrialized economies were dragging their feet on delivering the aid promised last year in Gleneagles, Scotland.
Children In Africa
"We are here to say that there is a silent emergency in Africa that we should not forget," said Moussa Faye, the trade adviser and Senegal country representative for the international antipoverty organization ActionAid. "Millions of children are missing on education in Africa. Every three seconds, a child dies from a preventable disease. So we really need to tell rich countries that they need to live up to their promises."
G8 leaders have pledged an extra $50 billion a year in aid for all developing countries by 2010, including $25 billion for Africa.
But according to Oxfam, one of the organizations leading the campaign to end global poverty, aid from France and Germany fell by 2 and 8 percent, respectively, in 2005.
'Late And Light'
Oxfam's Irungu Houghton described the G8's approach to poverty as "late and light."
As many as 2,000 people, he said, will die of poverty in the hour which G8 leaders are expected to spend today discussing progress on fighting global poverty.
Matt Phillips, from Save the Children, said the G8's initiatives to root out poverty are well meaning, but superficial.
"What we've tended to see from our G8 leaders is a proliferation of well-meaning and useful initiatives, but which are missing the point because they're not going to the nub of the real issue in Africa -- the fundamental violation of the right of children and their families to have health care and education so that they can grow up and break the cycle of poverty and take their countries forward," Phillips said.
Phillips added that the millions of people who attended the Live-8 rock concerts around the world last year to press for action would not forgive rich countries for failing to make good on their promises.
Trade Deal Stalled
Campaigners welcomed the cancellation of debts owned by 17 poor countries to the IMF, the World Bank, and the African Development Bank, a decision made last year in Gleneagles.
They said, however, that negotiations on a trade deal to alleviate poverty in developing countries were moving too slowly.
On the HIV/AIDS front, charity groups praised the progress made over the past decade in preventing and combating the disease. According to Debt AIDS Trade Africa (DATA), 800,000 HIV sufferers in Africa today have access to retroviral therapy, which represents a sevenfold increase from 2003.
But DATA's Oliver Buston said G8 leaders were not doing enough to meet their pledges to provide retroviral treatment to 4 million African HIV sufferers by 2010. It was, he said, "a terrible promise to break."
Charity groups also voiced concern over the severe shortage of peacekeeping and humanitarian relief in Darfur, Sudan.
Campaigners said they did not expect world leaders to come up with any important new aid initiatives at this year's G8 summit.
But they voiced hope that German Chancellor Angela Merkel, who will take over the rotating G8 presidency next year, will stress the need to enhance the campaign against poverty when she addresses reporters at the St. Petersburg summit on July 17.
MORE: For coverage of the G8 summit in St. Petersburg from RFE/RL's Russian Service, click here.
G8 Summit: St. Petersburg, July 15-17
G8 Summit: St. Petersburg, July 15-17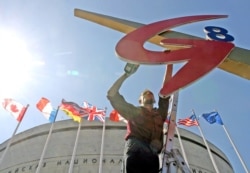 A worker hangs G8 banners outside the Russian National Library in St. Petersburg (epa)

SITTING DOWN AT THE TABLE: On July 15-17, Russia hosts the leaders of the Group of Eight (G8) leading industrialized countries in its northern capital, St. Petersburg. The event is a landmark in Russia's reemergence on the international stage after more than a decade of painful transition. In many ways, Russian President Vladimir Putin will be the strongest and most confident of the leaders at the meeting, despite international concerns about the state of Russia's democratic development. Below are links to some of RFE/RL's reporting on the run-up to this major international event.
Confident Kremlin Prepares To Preside Over G8 Summit
G8 Foreign Ministers Meet To Map Out Summit Agenda
Opposition, NGOs Gather Ahead Of G8 Summit
Barroso Calls On G8 To Agree Global Energy Principles
G8 Presidency Spurs 'Exceptional' PR Response
MORE: Follow the coverage of the G8 summit in St. Petersburg in Russian on the website of RFE/RL's Russian Service. An archive of RFE/RL's coverage of Russia in English.