Both districts, Garmser and Naway-e Barakzayi, are in the southern province of Helmand.
Earlier today, Afghan Deputy Interior Minister Abdul Malik Sidiqi said Afghan forces had pushed the militants out of Naway-e Barakzayi late on July 17.
Speaking to Radio Free Afghanistan, Sidiqi also accused Pakistani militants of taking part in the July 16 attack in Garmser district. He said the Pakistani fighters included militants from the Islamic groups Lashkar-e Tayyaba and Jamiat Ulema-e Islami.
"Unfortunately from some neighboring countries, particularly Pakistan, terrorist groups cross the border to Afghanistan," Sidiqi said. "One of these terrorist groups is called Lashkar-e Tayyaba and the other, Jamiat-e Ulema Islami. These groups have directly attacked the [Garmsel] district [of Helmand Province] and have burnt the Afghan flag. Inshallah, the security forces will severely punish these foreign aggressors."
Helmand Deputy Governor Amir Mohammad Akhunzada said up to 400 Afghan soldiers are being deployed alongside foreign coalition troops to recapture the Garmser district.
Earlier, an Afghan official said that around 4,000 Afghans have fled violence between coalition forces and Taliban militants in Helmand Province "in the past few days."
Rahilla Zafar, an official for the International Organization for Migration, said many of the displaced Afghans have gone to neighboring Kandahar Province.
(with AP, AFP, Reuters, dpa)
Afghanistan And Pakistan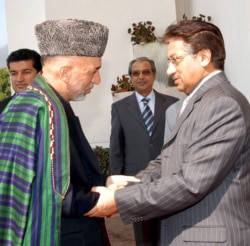 Afghan President Hamid Karzai (left) with Pakistani President Pervez Musharraf in Islamabad in October 2005 (epa)

ACROSS A DIFFICULT BORDER. The contested border between Pakistan and Afghanistan is some 2,500 kilometers long and runs through some of the most rugged, inhospitable territory on Earth. Controlling that border and preventing Taliban militants from using Pakistan as a staging ground for attacks in Afghanistan is an essential part of the U.S.-led international coalition's strategy for stabilizing Afghanistan. Officials in Kabul have been pointing their fingers at Pakistan for some time, accusing Islamabad or intelligence services of turning a blind eye to cross-border terrorism targeting the Afghan central government. Many observers remain convinced that much of the former Taliban regime's leadership -- along with leaders of Al-Qaeda -- are operating in the lawless Afghan-Pakistani border region.... (more)
RELATED ARTICLES
Pakistan-Afghanistan Conflicts Continue
Karzai, Musharraf Spar Ahead Of Bush Meeting
Musharraf Says Taliban Could Spark Pashtun 'National War'
Afghan Minister Attacks Pakistani Support For 'Terrorism'
Historical Context Of Afghan-Pakistani Relations
Afghanistan/Pakistan: 'Inseparable Twins' In Need Of Separation
ARCHIVE
RFE/RL
coverage of Afghanistan
. RFE/RL
coverage of Pakistan
.
SUBSCRIBE
For weekly news and analysis on Afghanistan by e-mail,
subscribe to "RFE/RL Afghanistan Report."