Briefing journalists at EU headquarters in Brussels today, Vendrell said the Afghan government together with the EU and other foreign supporters has until October or November to persuade a skeptical Afghan public it is able to create security in the country's lawless hinterland.
Summer Brings Violence
Vendrell, who has a long history of dealing with Afghanistan, began his briefing by saying that the situation in Afghanistan "has never been good" since the fall of the Taliban regime in 2001.
"We are lucky in the sense that we have an excellent ISAF commander,
General David Richards, who is probably one of the best things that has
happened to Afghanistan." -- Vendrell
He noted that "summers are always hot" in the country and ascribed much of the recent pessimism associated especially with Afghanistan's south to the heightened sensitivities of Western media and governments.
Vendrell said the upsurge of fighting that has followed the deployment of thousands of British, Canadian, Dutch, and other troops of the NATO-led International Security Assistance Force (ISAF) in the provinces of Helmand and Kandahar did not come unexpected. He said ISAF now has until the autumn to show it can defeat the Taliban and create a "political and security space" to allow reconstruction to take place.
"We are lucky in the sense that we have an excellent ISAF commander, General David Richards, who is probably one of the best things that has happened to Afghanistan," Vendrell added. "I think that he and we have a strategy to deal with this issue, we will have to see at the end of the year what are the results."
Bringing Order To The South
Vendrell praised Afghan President Hamid Karzai for responding to the widespread perception of bad governance in southern Afghanistan by replacing "problematic" provincial governors and appointing new police chiefs.
The EU envoy disagreed with the view popular in a number of EU member states that the extension of ISAF forces to the south has "provoked" the Taliban into action. Vendrell pointed out that before the arrival of ISAF, there were very few U.S.-led coalition troops in the area, and those present focused on pursuing Al-Qaeda.
He warned, however, that Taliban attacks on Western troops will bring more casualties.
Vendrell said the key to success lies in persuading the local population that the Western presence is capable of making a difference.
"I think that the population in the south are, if you like, somewhat skeptical as to whether this military presence is going to achieve anything," he said. "Because after 4 1/2 years there is a feeling among the Afghan people that not enough has been achieved, that very little, from their viewpoint has been accomplished. And therefore I think it is likely that for the time being the Afghan population will sit and watch, and see whether we are effective or not."
Vendrell was reluctant to elaborate on the criteria for measuring ISAF's success in the autumn, saying they could involve a decrease in the intensity of the insurgency and "the beginnings of reconstruction."
How EU Can Help
Addressing broader themes, Vendrell said the EU and other foreign donors must contribute more to help train the Afghan police force and help upgrade its often substandard equipment. He said both the lack of proper training and equipment were evident during the recent riots in Kabul.
Vendrell also commended the removal of the country's conservative chief justice, whose views he described as belonging to "the Paleolithic Age." The EU envoy said his replacement is a "modern and educated" person whose nomination opens up the prospect of progress in improving Afghanistan's justice system.
Pakistan Not Main Factor
The EU envoy appeared to downplay Pakistan's significance in respect of Afghanistan's problems. He said there was "no doubt" that the Taliban can use Pakistani territory, adding though that "whether this is something the Pakistani government can control is another matter."
Vendrell said Pakistan should do more to rein in the Taliban, but cautioned that excessive pressure could "overburden" Pakistan, which faces growing problems of its own in tribal areas.
The EU diplomat also recalled that President Pervez Musharraf is an ally in the global fight against terrorism, and that he "has been forthcoming on issues regarding Al-Qaeda and also inclined to restrain militant elements in Kashmir. So, we can't overburden Pakistan."
Vendrell dismissed suggestions that Afghanistan itself could be a cause of concern for Pakistan with its possible interference in Baluchistan or elsewhere. He noted Afghanistan in its present state would be "in no position" to foment separatism in Pakistan.
Afghanistan And Pakistan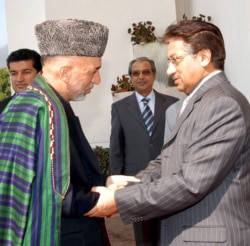 Afghan President Hamid Karzai (left) with Pakistani President Pervez Musharraf in Islamabad in October 2005 (epa)

ACROSS A DIFFICULT BORDER. The contested border between Pakistan and Afghanistan is some 2,500 kilometers long and runs through some of the most rugged, inhospitable territory on Earth. Controlling that border and preventing Taliban militants from using Pakistan as a staging ground for attacks in Afghanistan is an essential part of the U.S.-led international coalition's strategy for stabilizing Afghanistan. Officials in Kabul have been pointing their fingers at Pakistan for some time, accusing Islamabad or intelligence services of turning a blind eye to cross-border terrorism targeting the Afghan central government. Many observers remain convinced that much of the former Taliban regime's leadership -- along with leaders of Al-Qaeda -- are operating in the lawless Afghan-Pakistani border region.... (more)
RELATED ARTICLES
Pakistan-Afghanistan Conflicts Continue
Karzai, Musharraf Spar Ahead Of Bush Meeting
Musharraf Says Taliban Could Spark Pashtun 'National War'
Afghan Minister Attacks Pakistani Support For 'Terrorism'
Historical Context Of Afghan-Pakistani Relations
Afghanistan/Pakistan: 'Inseparable Twins' In Need Of Separation
ARCHIVE
RFE/RL
coverage of Afghanistan
. RFE/RL
coverage of Pakistan
.
SUBSCRIBE
For weekly news and analysis on Afghanistan by e-mail,
subscribe to "RFE/RL Afghanistan Report."