Alleged Hizb Ut-Tahrir Members On Trial In Uzbekistan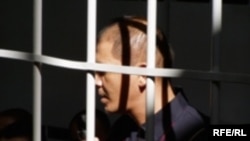 One of the many Uzbeks jailed for their alleged role in the unrest in Andijon in May 2005 (RFE/RL) TASHKENT, July 25, 2006 (RFE/RL) -- A group of 29 suspected members of the banned radical Islamic grouping Hizb ut-Tahrir went on trial today in Tashkent.
RFE/RL's Uzbek Service reports that, due to lack of space, the trial is taking place in two different courtrooms.
All 29 defendants are charged with spreading religious literature, threatening national security, and setting up an outlawed organization.
The Tashkent-based Center for Human Rights Initiatives says 19 of them had previous convictions on extremism-related charges.
It also claims nearly all defendants were physically abused during their pre-trial detention.
Uzbek authorities have long been cracking down on all forms of religious dissent. Government pressure increased in the wake of last year's unrest in the eastern city of Andijon, which authorities blame on armed religious fundamentalists.
Rights groups say Uzbek security forces killed hundreds of people, mostly peaceful civilians, while reasserting control over Andijon.

RFE/RL Central Asia Report

SUBSCRIBE For regular news and analysis on all five Central Asian countries by e-mail,
subscribe to "RFE/RL Central Asia Report."