The three countries have a shared historical heritage and the task of the three leaders was to seek ways that their common future would be bright. But current world events shifted some of their focus away from issues on the agenda.
Ahmadinejad Defends Hizballah
The three presidents have much to discuss that immediately concerns all three of their countries, but the fighting between Lebanese Hizballah and Israel quickly captured the leaders' attention.
"I think what the U.S. is saying [accusing Iran of being behind Hizballah] is to justify their own defeat." -- Ahmadinejad

Iranian President Ahmadinejad's country has been mentioned often in recent days as a sponsor of Hizballah. Ahmadinejad, who has made a number of controversial remarks about Israel, said on July 25 after his meeting with Rakhmonov that Israel is raising a "wind" that would become a hurricane and that hurricane would eventually turn against what he described as "the enemies of humanity."
Ahmadinejad returned to that topic at a separate press conference after his meeting with the Tajik and Afghan presidents on July 26. "Hizballah is part of Lebanon and we defend the territorial integrity of Lebanon," he said when asked about Hizballah. "We are against forced occupation. We ask [the United States]: 'What are your intentions and where do you want to go with the situation you have created?'"
Ahmadinejad also denied that Hizballah is an Iranian proxy. "I think what the U.S. is saying [accusing Iran of being behind Hizballah] is to justify their own defeat," he said. "They are desperate in the face of a popular group in Lebanon and they want to say that this group is not on its own, that it is backed by a country."
A joint statement released by the three presidents at the end of their meeting urged for immediate and unconditional end to military operations in Lebanon.
Improving Regional Cooperation
Ahmadinejad, Rakhmonov, and Karzai did address their mutual problems -- security and poor communications between the three countries.
The three leaders agreed to join in building a large hydroelectric dam on the Pyanj River that divides Tajikistan and Afghanistan. The dam would presumably provide power for all three countries.
They also agreed to cooperate more closely in the fight against illegal narcotics trafficking. Afghanistan is the world's largest supplier of opium, the key ingredient in heroin.
Ahmadinejad was quoted as saying of the three countries that "we should be as one -- economically, culturally, artistically."
Rakhmonov, Karzai, and Ahmadinejad decided to establish a council for coordinating trilateral relations that will be based in Kabul. They also agreed to meet every year to review progress in their ties.
(RFE/RL's Tajik Service correspondent Rahmatkarimi Davlat contributed to this report from Dushanbe.)
Iran, Syria, And Hizballah
Iran, Syria, And Hizballah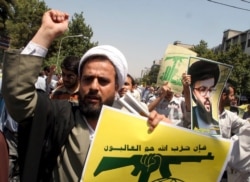 Iranians demonstrating in support of Hizballah in Tehran on July 17 (epa)

'FOR THE SAKE OF LEBANON': The Islamic Republic of Iran has served as an ideological inspiration for Hizballah since the Lebanese militant group's creation in 1982, and Tehran acknowledges that it supports the organization morally and politically. "Yes, we are friends of Syria and Iran" Hizballah leader Hassan Nasrallah has said. "For 24 years we benefited from our friendship with Syria and Iran for the sake of Lebanon...." (more)
RELATED ARTICLES
Tehran Playing Key Role In Israel-Lebanon Crisis
Iran, Hizballah Brush Off U.S. Terrorism Label
Intifada Conference In Tehran Has Multiple Objectives
UN Resolution Rankles Syria, Hizballah, Iran
ARCHIVE
RFE/RL
coverage of Iran
. RFE/RL web special on
Iran's nuclear program
.
SUBSCRIBE
For weekly news and analysis on Iran by e-mail,
subscribe to "RFE/RL Iran Report."