Russia Publishes List Of 17 Terrorist Groups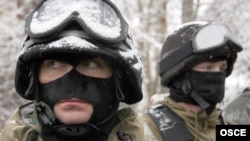 Elite Russian soldiers on counterterrorism exercises in midwinter (OSCE) July 28, 2006 -- The Russian newspaper "Rossiiskaya gazeta" today published a list of 17 organizations --> http://www.rferl.org/featuresarticle/2006/07/398cc38f-b2bd-49cc-9071-7500302be628.html the country's Supreme Court has declared to be terrorist groups.
As well as foreign groups such as Al-Qaeda and Afghanistan's Taliban movement, the list also includes Hizb ut-Tahrir, which is mainly active in Central Asia and the Middle East, but whose supporters have been detained in Russia.
(AFP)
MORE: RFE/RL coverage in Russian .


UPDATED CONSTANTLY: Visit RFE/RL's Russian-language website, featuring news, analysis, features, streaming audio, and more, in Russian, from RFE/RL's Russian Service.
ARCHIVE
RFE/RL's English-language
coverage of Russia
.