Georgian President Mikheil Saakashvili on July 27 said he will move the government-in-exile, which fled Abkhazia following a war in 1992-93, to the upper part of the Kodori Gorge, which straddles Abkhazia and the rest of Georgia.
Georgia plans to make the move after its forces defeat a local militia based in the Kodori Gorge. Tbilisi began a security operation in the gorge on July 26, but has yet to capture the militia's leader, Emzar Kvitsiani.
The warning issued by Abkhazia's foreign minister, Sergei Shamba, came shortly after Russian Foreign Minister Sergei Lavrov told Georgia that it would "have no chance" of solving the problems of Abkhazia and South Ossetia, the other Georgian breakaway region, by using force.
(Rustavi 2, Reuters)
MORE: RFE/RL coverage in Georgian .
Unknown Victims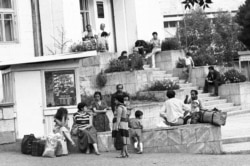 Ethnic Armenians displaced by fighting in Nagorno-Karabakh in the 1980s (Photolur)
HOW MANY MISSING? Well over a decade after conflicts in the South Caucasus froze, the International Committee of the Red Cross says new cases of missing people continue to emerge. Significant progress will, it fears, have to wait for final peace agreements.
Ethnic conflicts in the 1990s claimed tens of thousands of lives in the South Caucasus. Some 15 years later, many families are still searching for information about relatives who disappeared without a trace in the fighting.... (more)
RELATED ARTICLES
Frozen Conflicts Show Little Sign Of Thaw

South Caucasus Countries Discuss 'Frozen Conflicts,' Closer Ties
ARCHIVE
Click here to view archives of RFE/RL's coverage of the conflicts in Abkhazia, Chechnya, Kosovo, Nagorno-Karabakh, Ossetia, and Transdniester.

Click on the icon to view images of the Nagorno-Karabakh conflict (Flash required)