Interior Minister Vladimir Naumov said pornographic materials were seized during a search on July 25 of the home of the embassy employee, who has not been identified.
The Latvian Foreign Ministry said the raid was a breach of an international convention on the treatment of diplomatic staff.
The row comes at a time when Belarus' authoritarian regime is increasingly shunned by Western nations.
(dpa)

Minsk, March 25
THE AUTHORITIES GET TOUGH: RFE/RL's Belarus Service filed these images from the police action against the March 25 demonstration in Minsk. Photographs by Maks Kapran.
LISTEN
Listen to the sounds of the demonstration:
Real Audio Windows Media
Real Audio Windows Media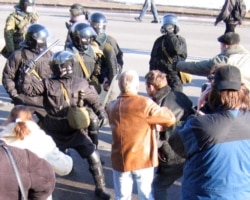 (RFE/RL)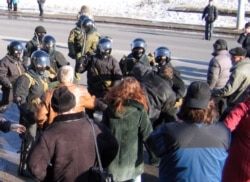 (RFE/RL)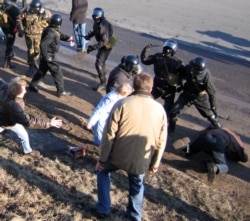 (RFE/RL)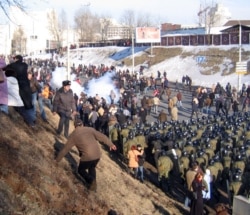 (RFE/RL)

THE COMPLETE PICTURE:
Click on the image to view a dedicated page with news, analysis, and background information about the Belarusian presidential ballot.


COVERAGE IN BELARUSIAN: Click on the image to view RFE/RL's coverage of the election campaign in Belarusian and to listen to RFE/RL's Belarusian Service.