The blast occurred during a crowded memorial service in the Farmay Adha area for a former mujahedin commander, Younis Khalis, who died earlier this month.
Provincial Police Chief Abdul Basir Solangi said the bomb was planted in a car used by police officers to drive to the mosque.
Most of the dead are believed to have been either guards or police officers.
The governor of Nangarhar Province, Gul Afgha Sherzai, was in attendance, but escaped unhurt.
He said he had been the target of the attack, which he blamed on the "enemies of Afghanistan," a reference to Taliban insurgents and Al-Qaeda militants.
Meanwhile, Afghan forces reportedly killed 23 Taliban insurgents in raids on two southern Afghan hideouts on July 30. The raids took place near the Helmand provincial town of Garmser, which Taliban forces overran and briefly took control of earlier this month.
(Reuters, AP, AFP)
Afghanistan And Pakistan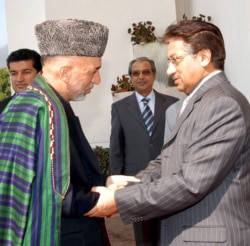 Afghan President Hamid Karzai (left) with Pakistani President Pervez Musharraf in Islamabad in October 2005 (epa)

ACROSS A DIFFICULT BORDER. The contested border between Pakistan and Afghanistan is some 2,500 kilometers long and runs through some of the most rugged, inhospitable territory on Earth. Controlling that border and preventing Taliban militants from using Pakistan as a staging ground for attacks in Afghanistan is an essential part of the U.S.-led international coalition's strategy for stabilizing Afghanistan. Officials in Kabul have been pointing their fingers at Pakistan for some time, accusing Islamabad or intelligence services of turning a blind eye to cross-border terrorism targeting the Afghan central government. Many observers remain convinced that much of the former Taliban regime's leadership -- along with leaders of Al-Qaeda -- are operating in the lawless Afghan-Pakistani border region.... (more)
RELATED ARTICLES
Pakistan-Afghanistan Conflicts Continue
Karzai, Musharraf Spar Ahead Of Bush Meeting
Musharraf Says Taliban Could Spark Pashtun 'National War'
Afghan Minister Attacks Pakistani Support For 'Terrorism'
Historical Context Of Afghan-Pakistani Relations
Afghanistan/Pakistan: 'Inseparable Twins' In Need Of Separation
ARCHIVE
RFE/RL
coverage of Afghanistan
. RFE/RL
coverage of Pakistan
.
SUBSCRIBE
For weekly news and analysis on Afghanistan by e-mail,
subscribe to "RFE/RL Afghanistan Report."