Russia To Compensate Kazakhstan Over Rocket Crash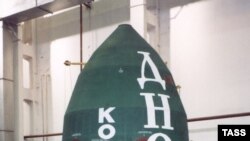 The nose cone of a Dnepr rocket (file photo) (ITAR-TASS) August 1, 2006 -- Russia's Roskosmos space agency says it will compensate Kazakhstan for any possible environmental damages caused by the recent crash of a Dnepr (RS-20) rocket.
The Interfax-AVN military news agency quotes Roskosmos spokesman Igor Panarin as saying Russia will meet all its obligations toward Kazakhstan.
The Russian rocket crashed on July 27, 73 seconds after taking off from Kazakhstan's Baikonur launchpad.
Kazakh authorities say the site of the crash is polluted with heptyl, a toxic fuel that is being widely used in the Russian space industry. Heptyl concentration there is reportedly 1,000 times higher than the maximum admissible levels.
The head of the Kazakh government commission that is investigating the crash, Deputy Science and Education Minister Azamat Abdymomunov, today denied reports that Kazakhstan would no longer authorize rockets filled with heptyl to use the Baikonur facility.
(Interfax-AVN, Interfax-Kazakhstan, ITAR-TAS, Kazakhstan Today)


UPDATED CONSTANTLY: Visit RFE/RL's Russian-language website, featuring news, analysis, features, streaming audio, and more, in Russian, from RFE/RL's Russian Service.
ARCHIVE
RFE/RL's English-language
coverage of Russia
.