At the end of a special session of the Organization of the Islamic Conference (OIC), leaders of several OIC member states also called for a special UN investigation into what they called flagrant human rights violations by Israel in its offensive against Hizballah.
They also demanded that Israel compensate Lebanon for losses due to its offensive.
The OIC is the world's largest Muslim political bloc.
Addressing the meeting today, in the Malaysian city of Putrajaya, Iranian President Mahmud Ahmadinejad urged Islamic and Arab nations to cut all political and economic ties to Israel.
Ekmeleddin Ihsanoglu, the Turkish head of the OIC, said the Islamic community is perplexed by the "double standards" being applied by the international community.
(compiled from agency reports)

The Middle East Crisis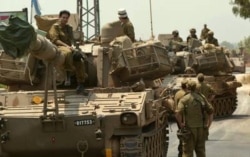 Israeli tanks poised on the border with Lebanon on August 2 (epa)
CLASH OF ARMS:
Since mid-July, Israel has been battling Hizballah guerrillas in southern Lebanon and carrying out punishing air strikes throughout the country. International efforts to broker a cease-fire have met with one obstacle after another, as civilian casualties mount and a humanitarian crisis unfolds. Since Hizballah is closely supported by Syria and Iran, the conflict threatens constantly to develop into a regional conflagration....
(more)
RELATED ARTICLES
Israel Steps Up Assault Despite Hizballah Warning
'We The People Are The Big Losers'
Iranians 'Volunteer' To Help Hizballah
Lebanon Cancels Talks After Bloody Qana Attack
The World Searches For An Elusive Solution
Analyst Says 'U.S. Needs To Talk To Syria, Iran'