It comes against the backdrop of strained bilateral relations in recent weeks. Moscow and Washington have failed to reach agreement on Russia's World Trade Organization bid and continue to disagree on resolving the Middle East conflict and on dealing with Iran's nuclear program. And during a recent high-profile Moscow meeting, Russian President Vladimir Putin and Venezuela's Hugo Chavez inked arms deals worth about $1 billion. RFE/RL's Russian Service spoke with Nikolai Zlobin, the director of the Russia and Eurasia Program at the Washington-based Center for Defense Information, about the U.S. sanctions.
RFE/RL: Is there any foundation behind the U.S. decision to impose sanctions on Rosoboroneksport and Sukhoi?

Nikolai Zlobin: I think that, of course, the motivation is serious. The Americans usually act on the basis of laws and facts and evidence. Of course, they might choose not to use these facts and evidence, but I have no doubt that their decision has a logical basis. From a purely legal point of view, it won't be possible to contest this decision. You can contest it at the political level, but from the economic and legal points of view, I'm sure that everything has been thought through. The Americans usually think about these things carefully and don't make mistakes.

RFE/RL: The U.S. State Department spokesman said that this decision is not directed against state organs, but only affects private companies in the United States. How can we speak of a political component?

Zlobin: Whenever the State Department or the Commerce Department or the Justice Department advises defense contractors, arms producers, not to deal with certain companies around the world, you can be sure that the advice is seriously thought out on the legal level. There can be no questions about the legal side of this. As for the political side, the State Department made a decision about when and how to announce this decision and even whether to announce this decision regarding these companies. The fact that they made this decision, I think, means that it has a political nature.

RFE/RL: Do you think it is connected to recent developments in Russian-Venezuelan relations?

I think that it is connected with a whole complex of factors, including the fact that the Americans suspect that Russia occasionally violates international agreements and directly or indirectly sells or transfers weapons -- or at least facilitates the sale or transfer of weapons -- to countries, regimes, or companies that the United States does not approve of or that are under international sanction. So, there is definitely a political component, and Venezuela plays a role -- the Russian-Venezuelan military contracts have alarmed the Americans. There are various points of view on this, but it is a fact that possible future Russian-Venezuelan military cooperation -- not so much what is happening now, but what could happen in the future -- played a role. I completely agree with that. Zlobin:

RFE/RL: Judging by press reports, the head of Sukhoi has repeatedly sworn that for at least the last seven or eight years, his firm has not sold a single screw to Iran. Can we believe such statements?

Zlobin: I think you can. Of course, one should look into the matter concretely. The Americans generally look into such situations carefully because a firm like Boeing can hire very competent, very professional, very expensive lawyers to prove that the U.S. government is wrong. Statistics show that American firms win cases against the government rather more often than the government wins such cases against firms.

RFE/RL: That means there is something to fight for if the sanctions are enforced?

Zlobin: Of course there is. And I think they will fight; they will appeal. If they are able to prove that the sanctions were introduced with even the slightest violation of some law or other, they can succeed in having the sanctions lifted.
Russian Arms Exports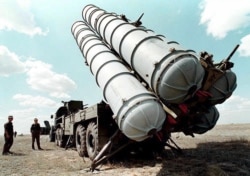 Russia's advanced S-300 air-defense system (epa file photo)

BOOM TIMES: In 2005, Russia sold more than $6 billion in weapons to more than 60 countries around the world. The state arms exporter says it has $17 billion in orders in hand....(more)
RELATED ARTICLES
Putin Pushes Greater Arms Exports
Energy, Weapons Bring Moscow Closer To Algiers
Will Russia's Oil Windfall Go To Military?
Putin Stresses Need For Strong Military
ARCHIVE
RFE/RL
coverage of Russia
. RFE/RL web special on
U.S.-Russian relations
.
SUBSCRIBE
For news and analysis on Russia by e-mail,
subscribe to "RFE/RL Russia Report."