Kazakh Official Puts Cost Of Rocket Crash At $340 Million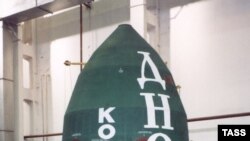 The head of a Dnepr rocket at the Baikonur space center (file photo) (ITAR-TASS) August 8, 2006 -- The head of Kazakhstan's Qizilorda region estimates that the environmental damage caused by the crash of a rocket on July 27 at $340 million.
Russia's space agency, which launched the rocket, responded to the claim saying that would be premature to put a figure on the damage.
Roskosmos spokesman Igor Panarin said Russian and Kazakh experts last week agreed not to give any estimate until the investigation is completed.
The head of the Qizilorda region, Ikram Adyrbekov, said that he doubts Russia would be willing to pay the full cost if the estimate is confirmed.
Roskomos had earlier pledged to compensate Kazakhstan in full.
The RS-20 (Dnepr) rocket crashed 73 seconds after taking off from the Baikonur launching pad. The cause of the accident has yet to be determined.
(Interfax-Kazakhstan, Interfax-AVN)