Security, Drugs Exercise Under Way In Central Asia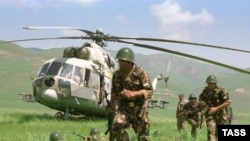 A Tajik army unit during multilateral military exercises (file photo) (ITAR-TASS) August 8, 2006 -- Border guards from Kyrgyzstan, Tajikistan, Kazakhstan, Uzbekistan, and Russia are currently involved in joint counterterrorism and counternarcotics exercises.
Dubbed "Marzbon-2006," it also involves the defense, interior, emergencies ministries of all five participating countries, as well as their migration services and counternarcotics agencies.
Officials say the exercises on August 7.
(AKIpress, 24.kg)