Japan Gives $5 Million To Afghan Anti-Drug Campaign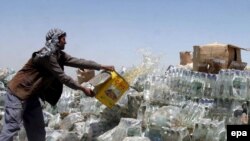 An Afghan official prepares to torch drugs seized by the security forces (file photo) (epa) June 27, 2006 -- Japan will donate $5 million to a UN Development Program (UNDP) campaign to combat the drug trade in Afghanistan.
The money, which will go to the UNDP's Counternarcotics Trust Fund, will be spent on curbing the production of opium poppies and drug trafficking.
The Japanese government said the Afghan drug trade is helping to fund terrorists who are destabilizing the country and hindering its economic development.
Afghanistan is the world's biggest producer of opium, the raw material of heroin.
(AP)

RFE/RL Central Asia Report

SUBSCRIBE For regular news and analysis on all five Central Asian countries by e-mail,
subscribe to "RFE/RL Central Asia Report."