Moscow Slams 'Lonely Planet' Guide For Poor Image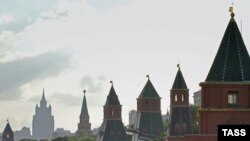 The Kremlin (ITAR-TASS) August 9, 2006 -- The Moscow mayor's office has lashed out at the respected "Lonely Planet" travel guides for allegedly presenting a distorted image of the city by writing that the Russian capital is plagued by street crime and corruption.
The guidebook praises Moscow's beauty but says it's "riddled with corruption."
Moscow recently announced a plan to spend $27 million to polish the city's image with tourists.
("The Guardian," BBC Russian)



UPDATED CONSTANTLY: Visit RFE/RL's Russian-language website, featuring news, analysis, features, streaming audio, and more, in Russian, from RFE/RL's Russian Service.
ARCHIVE
RFE/RL's English-language
coverage of Russia
.