Tajik Opposition Party Proposes New Leader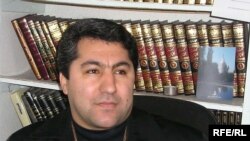 Muhiddin Kabiri, the proposed successor to Said Abdullo Nuri as head of the Islamic Renaissance Party (RFE/RL) DUSHANBE, August 13, 2006 (RFE/RL) -- Tajikistan's Islamic Renaissance Party has proposed a new leader following the death last week of Said Abdullo Nuri, an opposition leader and a key figure in Tajikistan's civil war.
The party late on August 12 proposed as its chief Muhiddin Kabiri, who was a leading deputy to Nuri for many years.
He faces a confirmation vote at a party conference in September.
In an interview with RFE/RL's Tajik Service, Kabiri said that, if he is elected, he does not expect to instigate major changes in the party's policies.

RFE/RL Central Asia Report

SUBSCRIBE For regular news and analysis on all five Central Asian countries by e-mail,
subscribe to "RFE/RL Central Asia Report."