Afghan, U.S. Raid Kills Al-Qaeda Suspect, Captures 13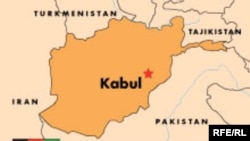 (RFE/RL) August 15, 2006 -- The U.S. military says that U.S. and Afghan troops killed a suspected Al-Qaeda militant and captured 13 other fighters during a raid on a residential compound in southeastern Afghanistan today.
The raid, aimed at disrupting a weapons smuggling operation, was conducted in the village of Yaqubi in eastern Khost Province.

The military says also resulted in the seizure of explosives and detonators.

In other developments, suspected militants killed five police -- including a local police chief -- in an August 14 attack in Afghanistan's western Farah Province.

Local officials say the attackers ambushed a two-vehicle police convoy in the Gulistan district of Farah. At least three other police officers were wounded in the ambush.

(AFP, AP, dpa)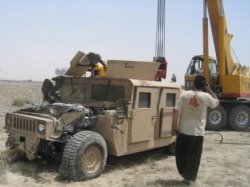 A U.S. military vehicle damaged by insurgents near Kandahar (epa)
HOMEGROWN OR IMPORTED? As attacks against Afghan and international forces continue relentlessly, RFE/RL hosted a briefing to discuss the nature of the Afghan insurgency. The discussion featured Marvin Weinbaum, professor emeritus of political science at the University of Illinois at Urbana-Champaign, and RFE/RL Afghanistan analyst Amin Tarzi.
LISTEN
Listen to the entire briefing (about 83 minutes):
Real Audio
Windows Media
ARCHIVE
RFE/RL's
coverage of Afghanistan
.
SUBSCRIBE
For weekly news and analysis on Afghanistan by e-mail,
subscribe to "RFE/RL Afghanistan Report."