New UN Chief In Kosovo Expects To Be The Last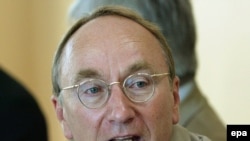 Joachim Ruecker, the new head of the UN administration in Kosovo (epa) August 15, 2006 -- The newly appointed UN administrator of Kosovo today said he expects to be the last UN official to run the Serbian province.
Joachim Ruecker pledged to make it his priority to give Kosovo's two million people "a clear perspective."
The German diplomat was named to the post by UN Secretary-General Kofi Annan on August 14.
Kosovo has been run by the UN since 1999.
(dpa, AP)